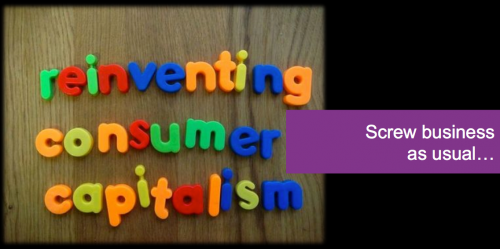 I've always admired TED's approach to presentations. More importantly, I appreciate how this approach inspires its presenters to in turn inspire audiences in the room and around the web. This evokes the concept of having an "audience with an audience of audiences" where those on stage break through the fourth wall to speak to and through audiences to extend engagement to social networks. TED stimulates the sharing of inspired experiences and it's the nature of those experiences that foster greater dialogue in and around each event.
It's because of this that I was a bit hesitant to step up to a TED stage. My good friend Debbie Landa of Dealmaker Media introduced me to Janine Shiota who organizes, quite impressively, TEDx Presidio. Between the two, I was encouraged to speak at the most recent event. I was nervous to say the least. It's not just about that moment, it's about how that moment is shared and interpreted now and over time. TEDTalks are truly social objects and as such I was moved to rethink everything.
I wanted to share this personal moment with you as I was inspired by Debbie and Janine along with the other speakers and people at the event who helped me see what TED is really about…ideas and how those ideas touch people and inspire something bigger than any one person.
The theme for the event was Re-inventing Capitalism and I literally took it personally. If ideas start with an individual then so can change. I decided to focus my talk on you…
Here are the storyline:
Capitalism – an economic and political system in trade and industry are controlled by private owners for profit, rather than by the state.
Relationships are defined by the way in which two or more people or organizations regard and behave toward each other.
This is a #socialeconomy and we are its exchange. Our actions or inactions are our currency.
Screw business as usual…
The social economy is giving rise to a new consumer revolution. In an era of connected consumerism, Social Media strategies aren't going to save your business.
Businesses are at risk of irrelevance, which gives rise to an era of Digital Darwinism.
Digital Darwinism is the evolution of consumer behavior when society & technology evolve faster than your ability to adapt.
Social media has started a revolution in how people connect, learn and communicate, and its effects cannot be undone.
Business leaders shouldn't have to experience a customer revolution …if employees care enough, the Corporate Spring will happen from within.
But…
There's too much talking in social media and not enough listening and learning.
There's too much "me" in social media and not enough "we" in the social web.
We underestimate the opportunity before us…
The idea that a presence on a social network will make your organization more human is the equivalent of showing up to an election and expecting to win.
Welcome to the EGOSYSTEM
We live in a time when…Brands are now people and people are now brands.
You are now part of an audience with an audience of audiences. We are connected now more than ever before. Relationships are powerful. What do we want to do with this opportunity?
The people defining connected audiences are earning influence. The era of consumer hierarchy is upon us. Organizations too, earn or lose influence.
I can't help think about the importance of social capital as we re-think capitalism. Naturally Robert Putnam comes to mind.
"Social capital can be measured by the amount of trust and "reciprocity" in a community or between individuals."
-Robert Putnam
And of course Nan Lin…
"[Social capital is the…] investment in social relations with expected returns in the marketplace."
– Nan Lin
Take a moment to visualize your status update window of choice…whether it's Facebook, Twitter, Path, Tumblr, Pinterest, et al…
What other people say here contributes to the social capital of your brand.
What you say here contributes to your social capital as well.
If your brand is what people say about you when you're not in the room as Amazon's Jeff Bezos once said, then shared experiences affect impressions. No amount of marketing will change an experience.
See…
The social economy is a human network and it is stitched together by emotions and activated through empathy. Defining meaningful experiences in the moments of truth is where our work begins.
Sometimes capitalism isn't just measured by profit, but by the richness of relationships and earned social capital
Understanding the relationship between cause and effect is the first step in designing strategies where ROI represents the Realization of Influence.
The future of the #socialeconomy is YOURS TO SHAPE!
It takes empathy.
It takes courage.
It takes vision.
It takes perseverance.
Investing in Social Capital is the true value of any human network
Please take a moment to watch the presentation…
Thank you.
Connect with me: Twitter | LinkedIn | Facebook | Google+
The End of Business as Usual is officially here…