Guest post by Danna Vetter, VP, Consumer Strategies, ARAMARK – Part 4 in a series
There are a lot of articles out there about what to do for your company's social media strategy. However, there is limited information about how to train the employees that are actually representing your company on social channels. And because social media is such an open and public place, your company is potentially at risk every time your employees engage in social campaigns.
At ARAMARK, a multi-billion dollar food, facility, and uniform company, properly training the organization about social media may be the most important layer in a social strategy that leverages touch points throughout the 250,000 people we employ.
You may have read our previous post about how we develop social strategies with business application that are tied to real goals and objectives. Our businesses each have their own social strategies and some even have strategies within that. But they all lead back to what they are trying to accomplish as a business. So, really, our social strategies affect all portions of our workforce – not just our marketing groups, but also our regional and front line staffs, including managers, cashiers, and even cooks. Everyone's affected when our businesses apply social media.
So with multiple verticals, you can imagine how difficult it can be to train employees across the enterprise. Where do you even start? My advice is to group people in your company as simple as you can. We bucketed our users into three levels – Awareness, Active, and Expert.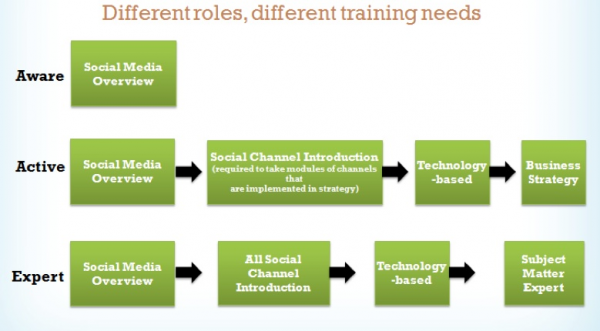 Our Awareness users need to know the company is active in social media and what the strategy is for engaging with consumers, clients, and employees. We built an introductory social media e-learning at ARAMARK and require all employees of a business with an active social strategy to take the module.
That introductory e-learning module is not limited to the Awareness users. Our Active users – the community managers actually managing our social channels – take that course as well as specific training related to the social media platforms they are active on (such as Facebook or Twitter). They are also required to train on their social strategy and any technology applications that they are working with (like a social media management system).
Our Expert users are our social delegates, who represent our businesses in social and help develop social strategies for that business. They train on all of the above as well as take part in advanced seminars and sessions with the entire social delegate team. These users haven't always necessarily had social media as part of their role, so it is essential that they become subject matter experts and have the knowledge to lead social in their business.
The constant evolution of the industry has certainly kept our Social Media team busy with updating and transitioning the content we develop. In terms of that development, we have taken a hybrid approach in how we provide all this content. Besides e-learning modules, we also create resource and reference guides on timely events (like Facebook Timeline), present live trainings, and leverage external partners. Our common goal is to sustain this content across our vast enterprise. Our diverse business offerings and segments around the globe can obviously make this extremely difficult at times. But there are pieces of everything that can be leveraged by everyone.
And when everyone is touched by your social media strategy, you all win together. From your executives to your community managers. That's a story we can all do a better job telling.
Part 1 – They all laughed
Part 2 – The 5th P of Marketing is People: Engagement begins within
Part 3 – Without a Strategy, There Is No ROI
Follow Danna Vetter on Twitter
Image Credit: Shutterstock