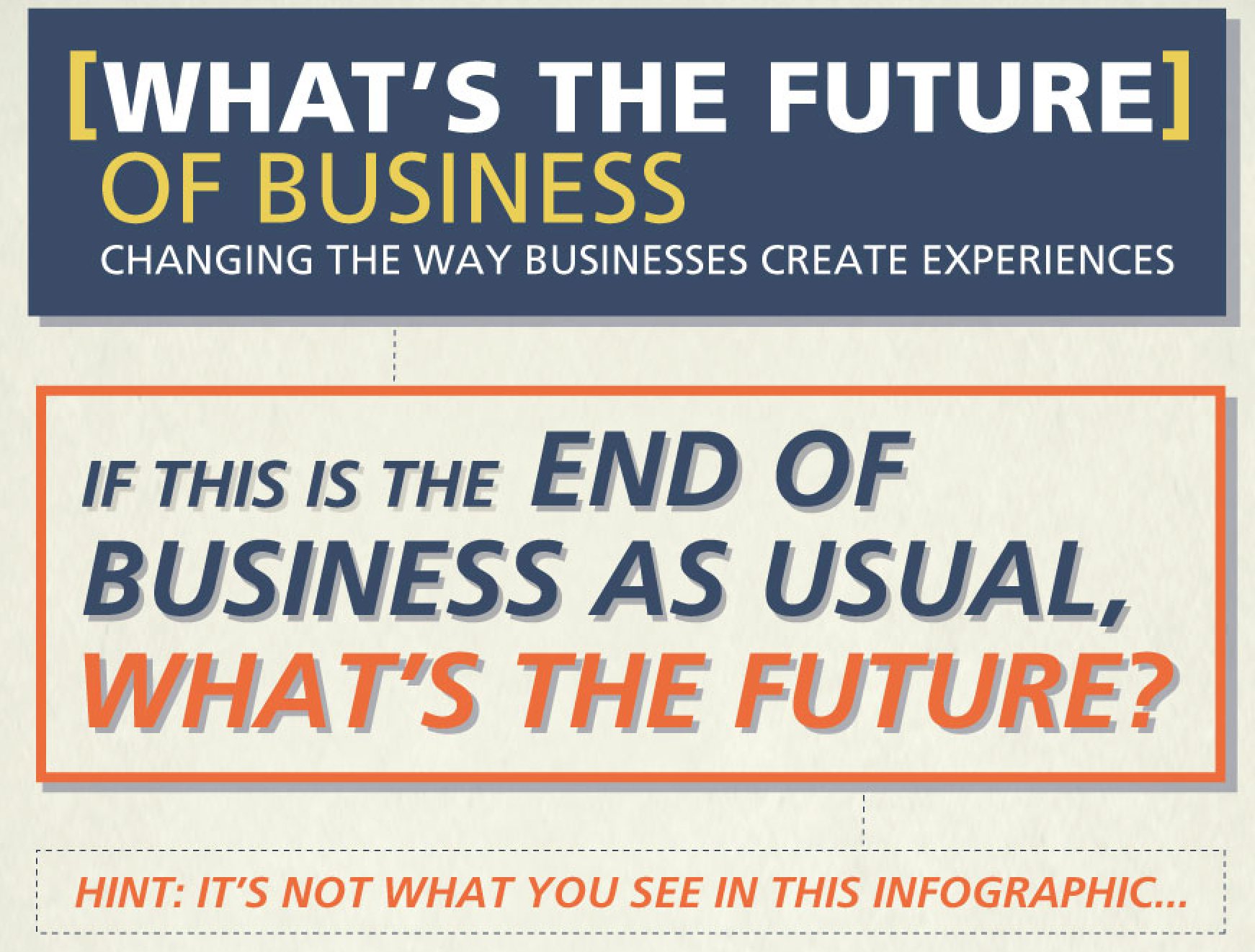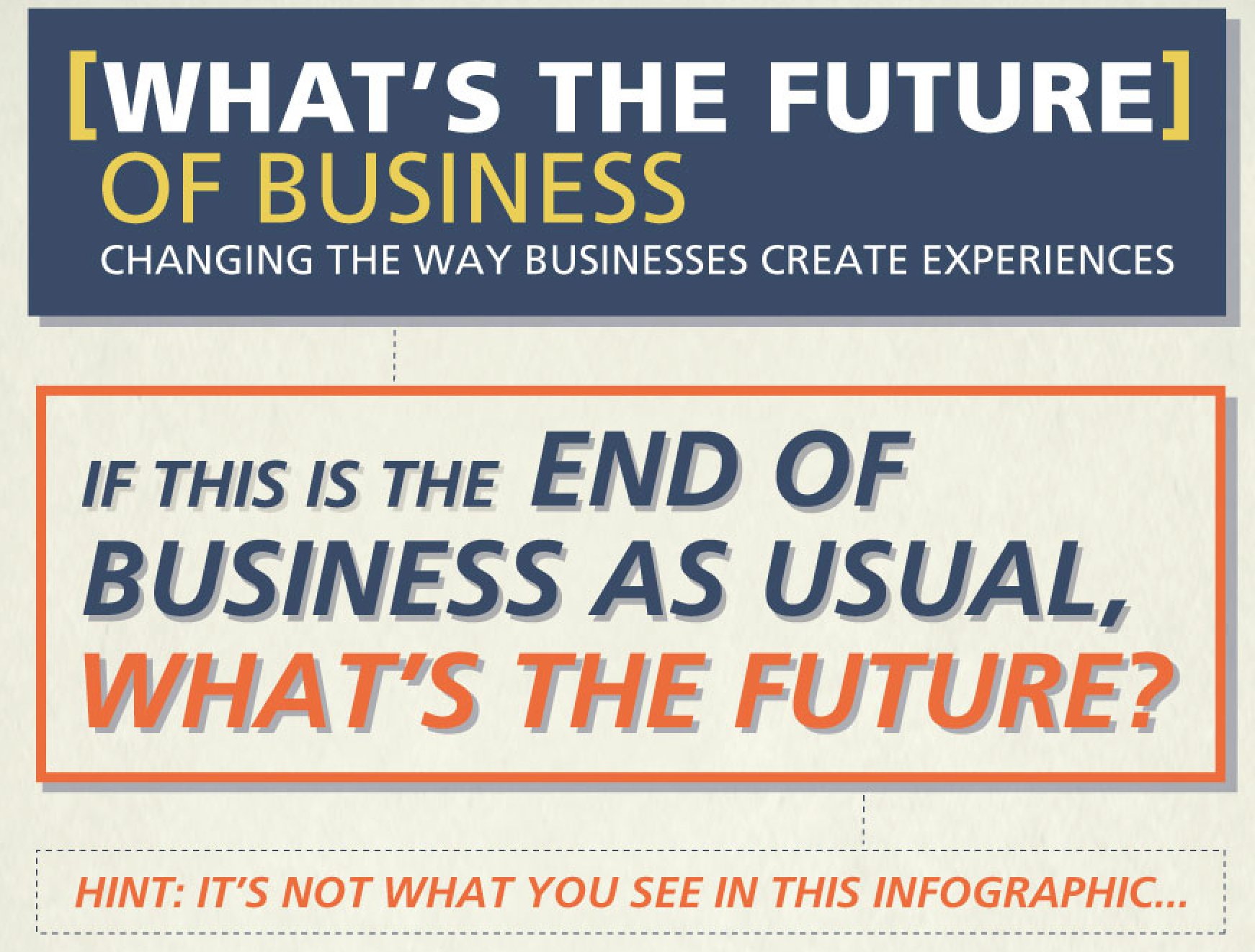 We live in an era of what I refer to as Digital Darwinism, a time when technology and society are evolving faster than the ability of many organizations to adapt.
Over the years, I've studied how disruptive technology affects consumer behavior and decision-making. I've also researched how businesses react (or don't) to these changes. What I've learned is that barring a few exceptional instances of complete ignorance, organizations are open to adaptation if there's indeed a case made for it and a path outlined to safely and cost-effectively navigate change.
Part of the problem is that decision makers and stakeholders react to shareholders and not necessarily customers or markets. When they are ready to react, it's typically a technology-first rather than a people-first initiative. Without understanding behavior, expectations, patterns, and new touch points, technology is often the right answer at the wrong time. It's not unlike the famous saying about missed targets when they follow a "ready, fire, aim" command.
To mark the occasion of my upcoming book, What's the Future of Business: Changing the way businesses create experiences, I worked with the team at Barnickel Design in New York to create an infographic that tells the chilling story of the effects of Digital Darwinism and a changing consumer landscape. To tell the story, I dissected the infographic into chapters.
Please read on to learn about how crazy things are getting and what you can do about it…(full infographic at the end)
Digital Darwinism is Accelerating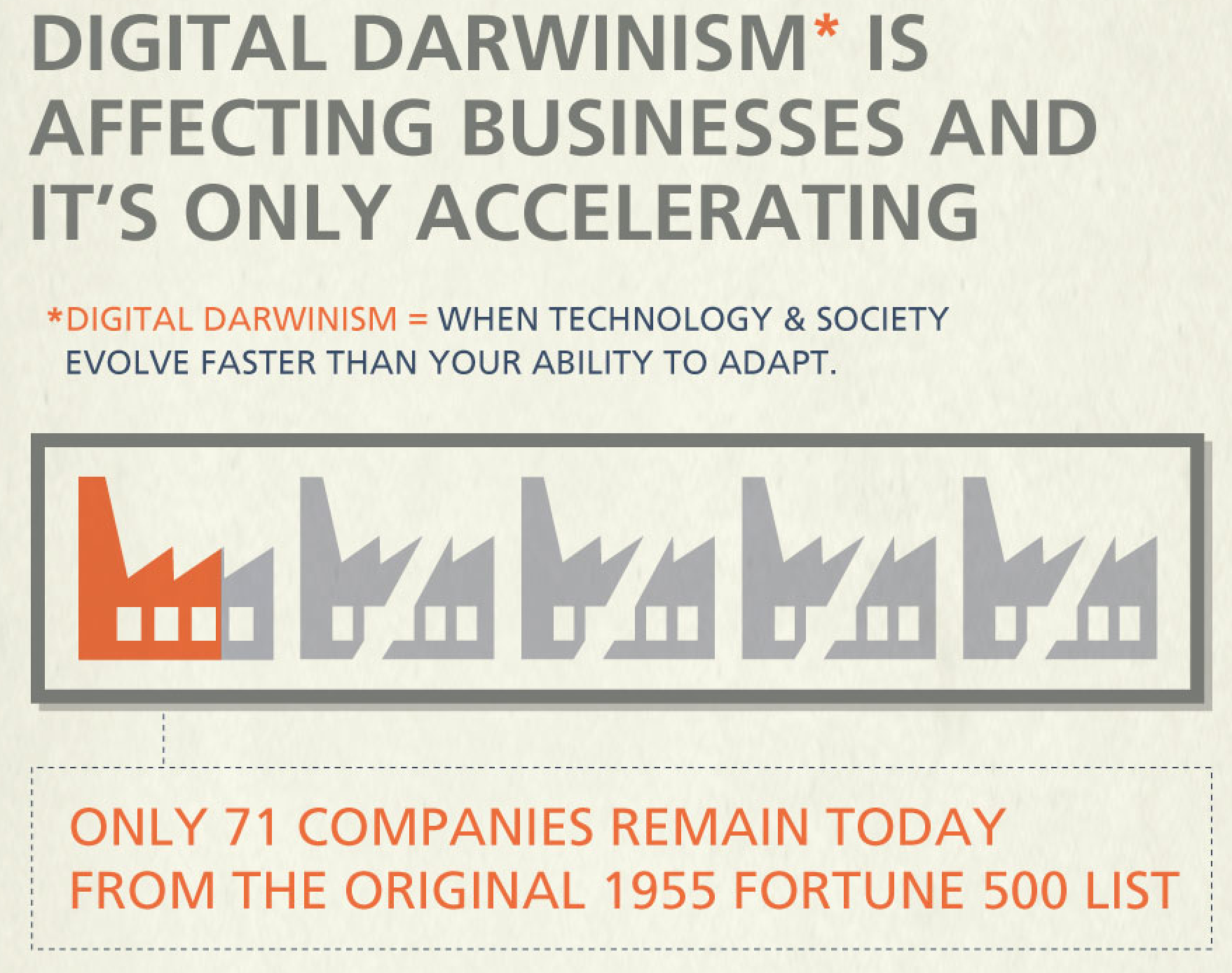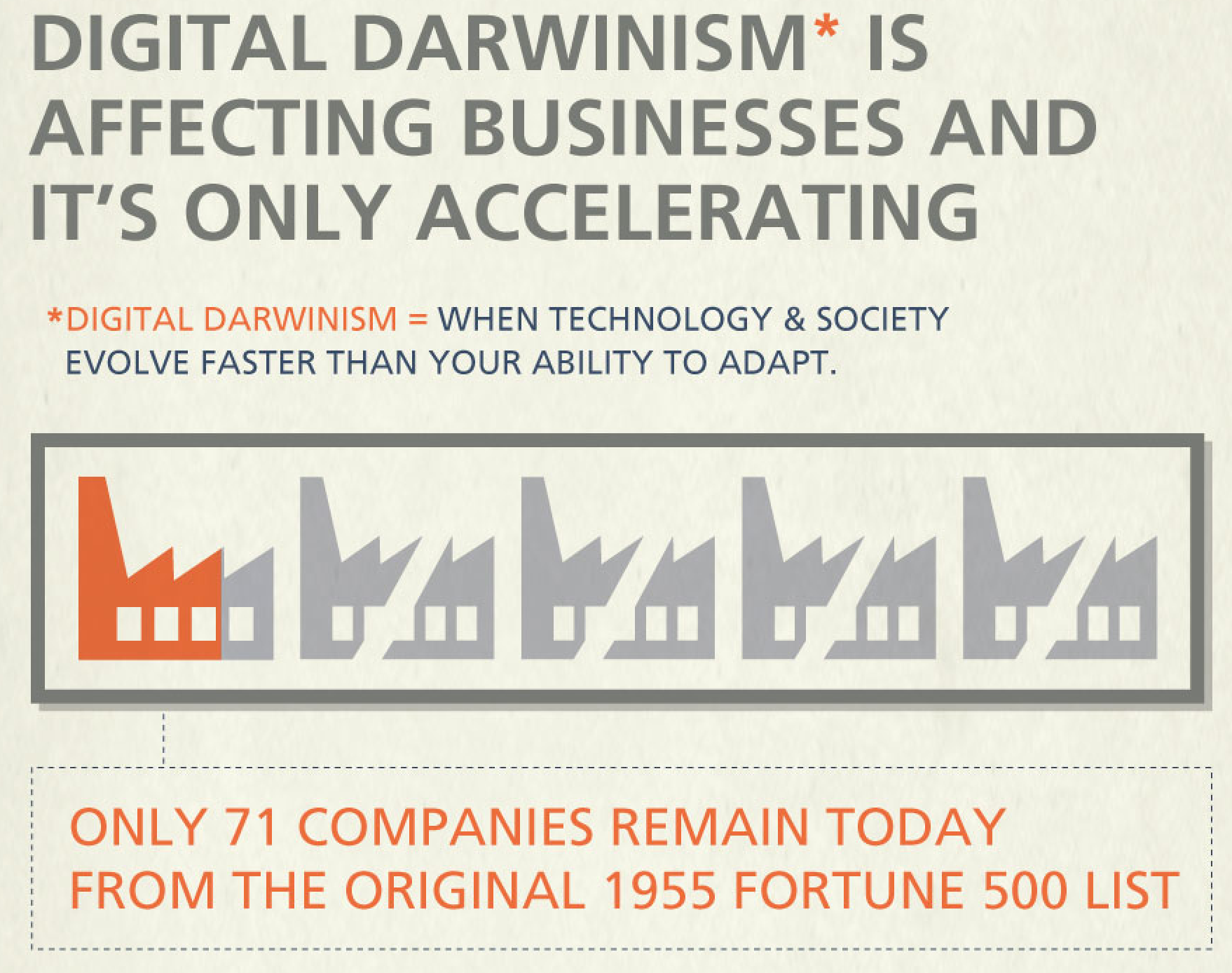 Digital Darwinism is affecting businesses and it's only accelerating.
Only 71 companies remain today from the original 1955 Fortune 500 list.
Source: Jim Collins, author of Built to Last
Business as Usual Doesn't Stand a Chance

In the United States alone, over 500,000 new startups emerge every year. Of that, 50% are likely fail within the first year. And, within the first five years, another 56% are expected to fail.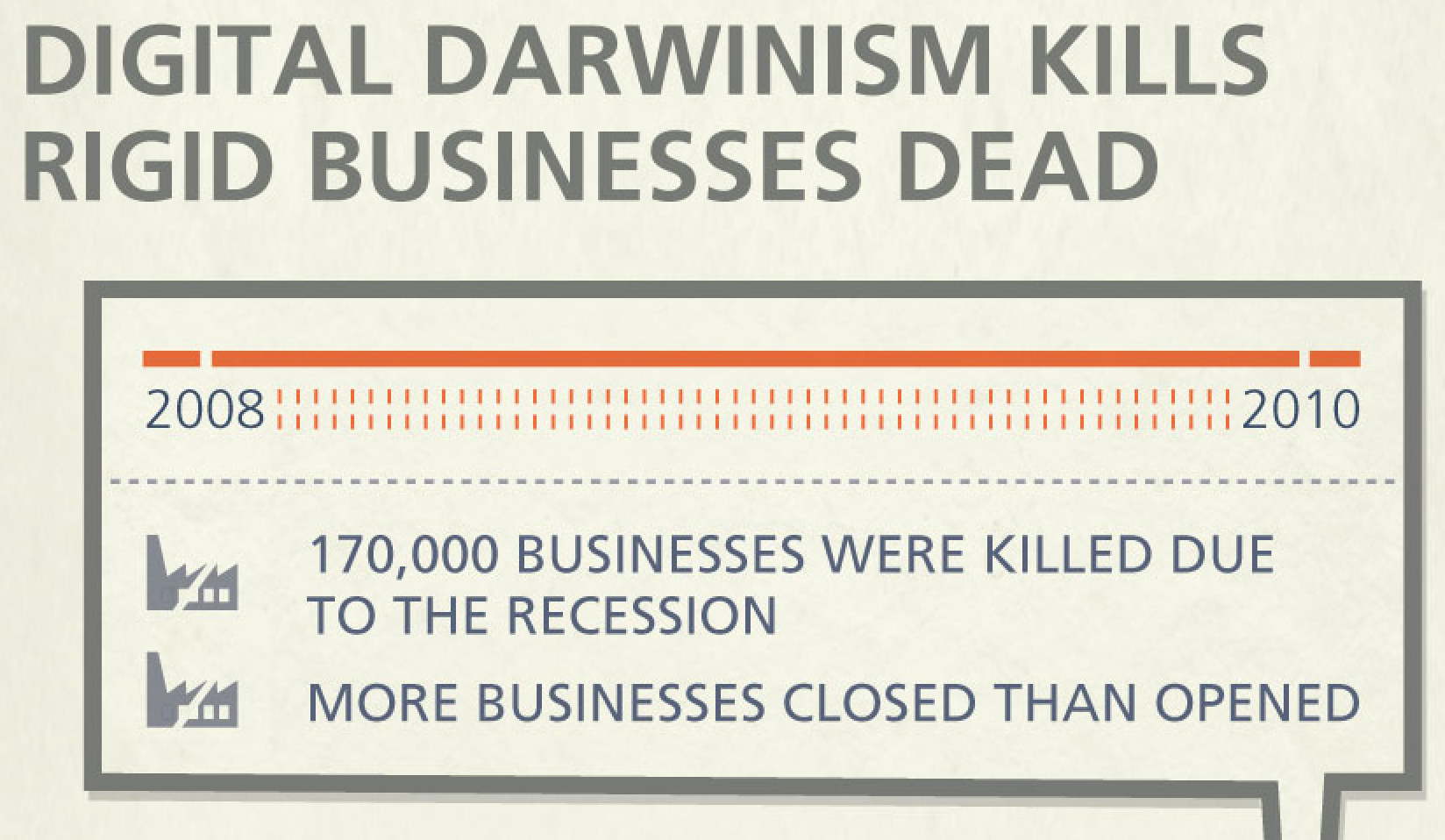 Source 1
Source 2
Digital Darwinism Kills Rigid Businesses Dead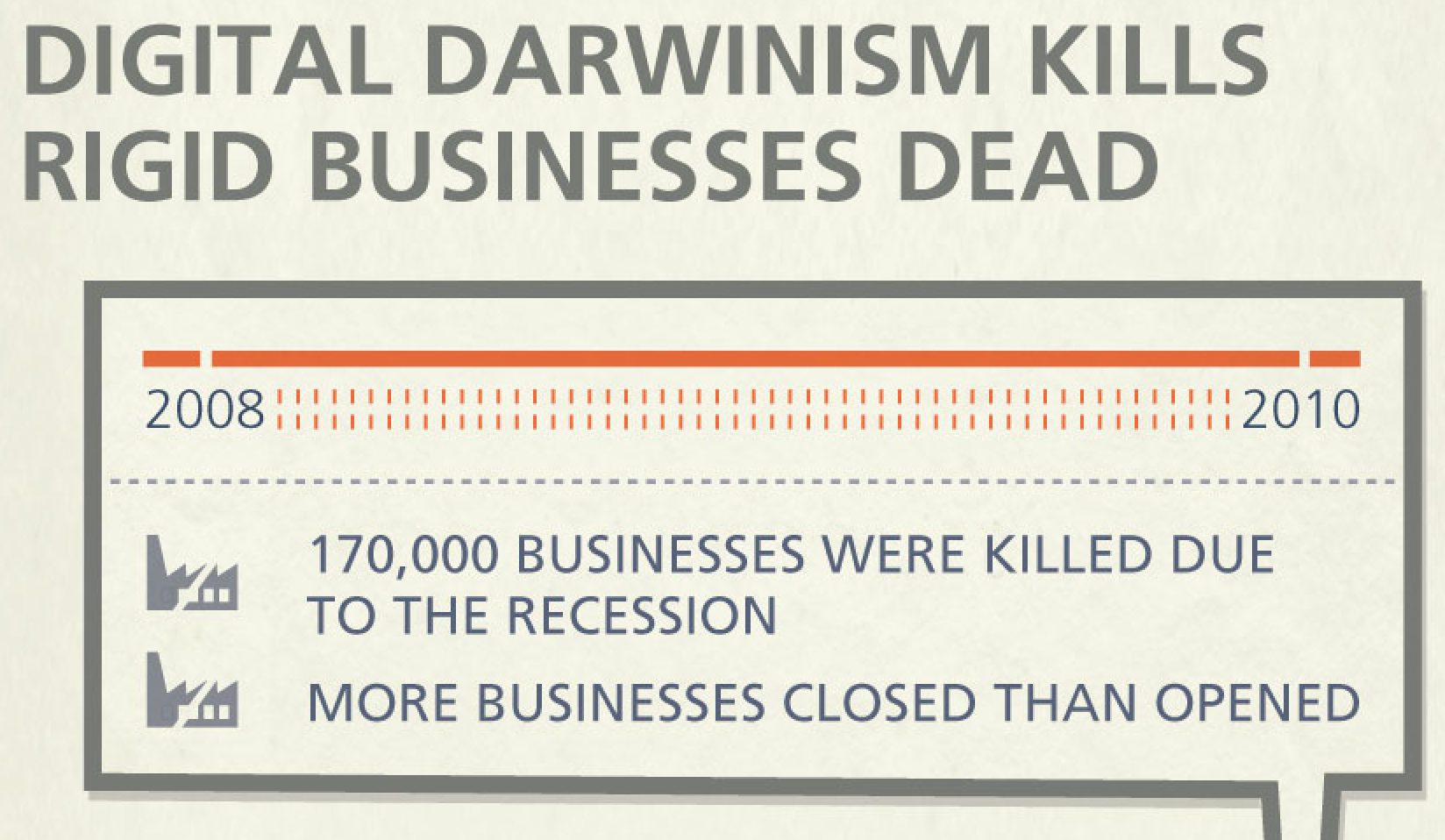 The most recent recession in the U.S. had a crushing effect on businesses. Within a two year period between 2008 and 2010, 170,000 businesses are estimated to have closed. And, more businesses closed than opened in that timeframe.
No Business is Too Big to Fail or Too Small to Succeed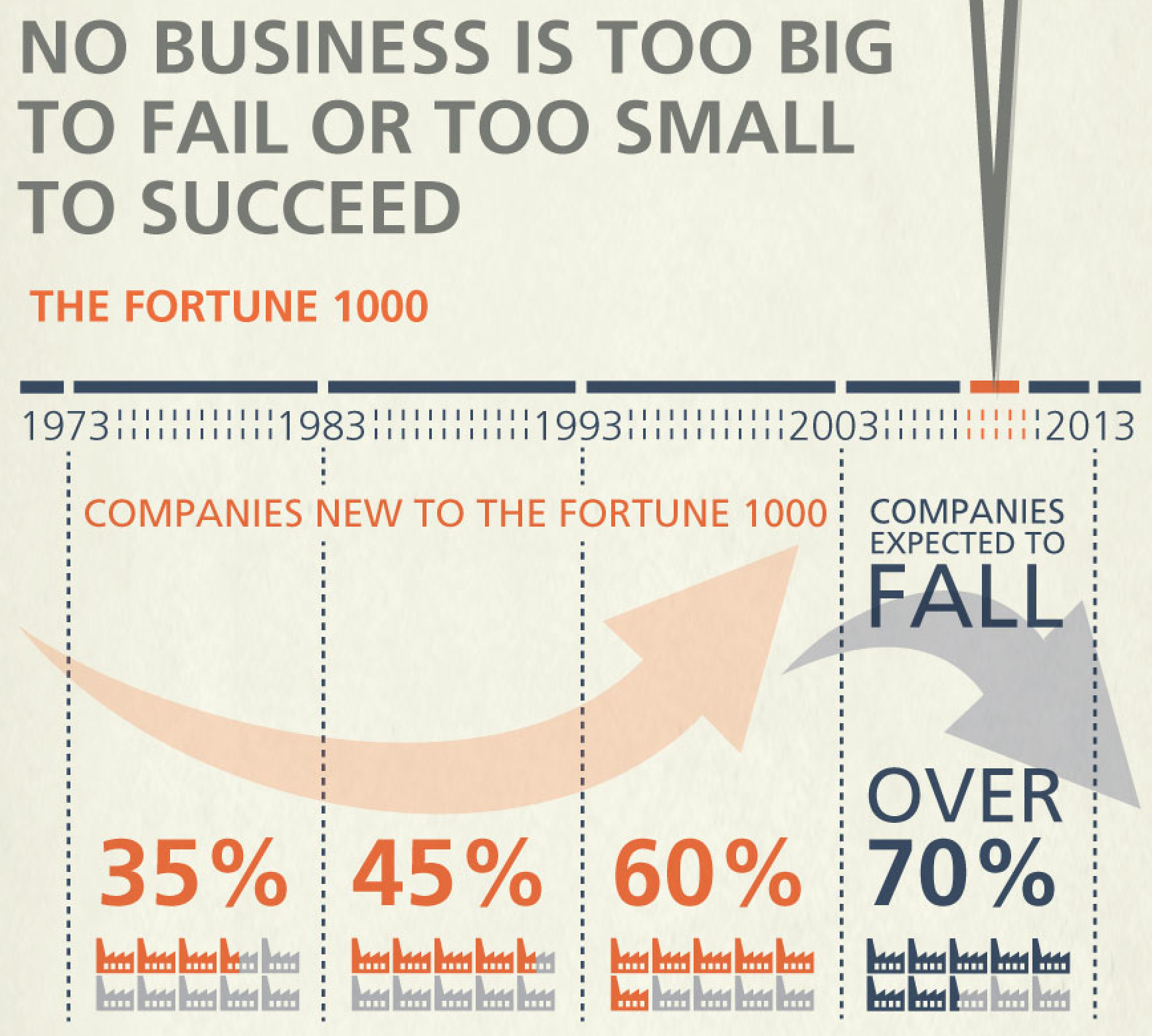 Between 1973 and 1983, 35% of companies in the Fortune 1000 were new to the list.
From 1983 TO 1993, 45%.
From 1993 TO 2003, 60%.
Over 70% of Fortune 1000 companies were expected to fall between 2003 and 2013
Source: Forbes
How to Survive Digital Darwinism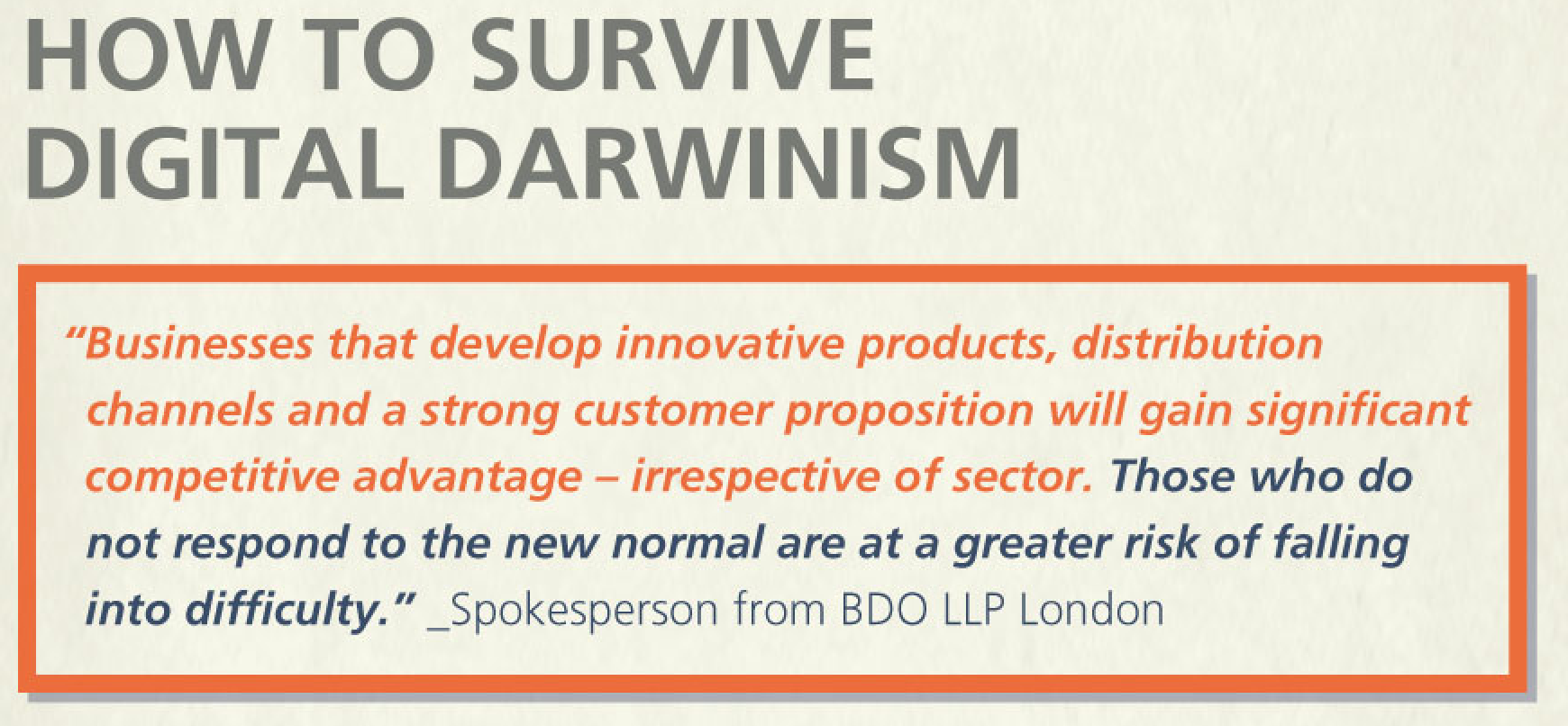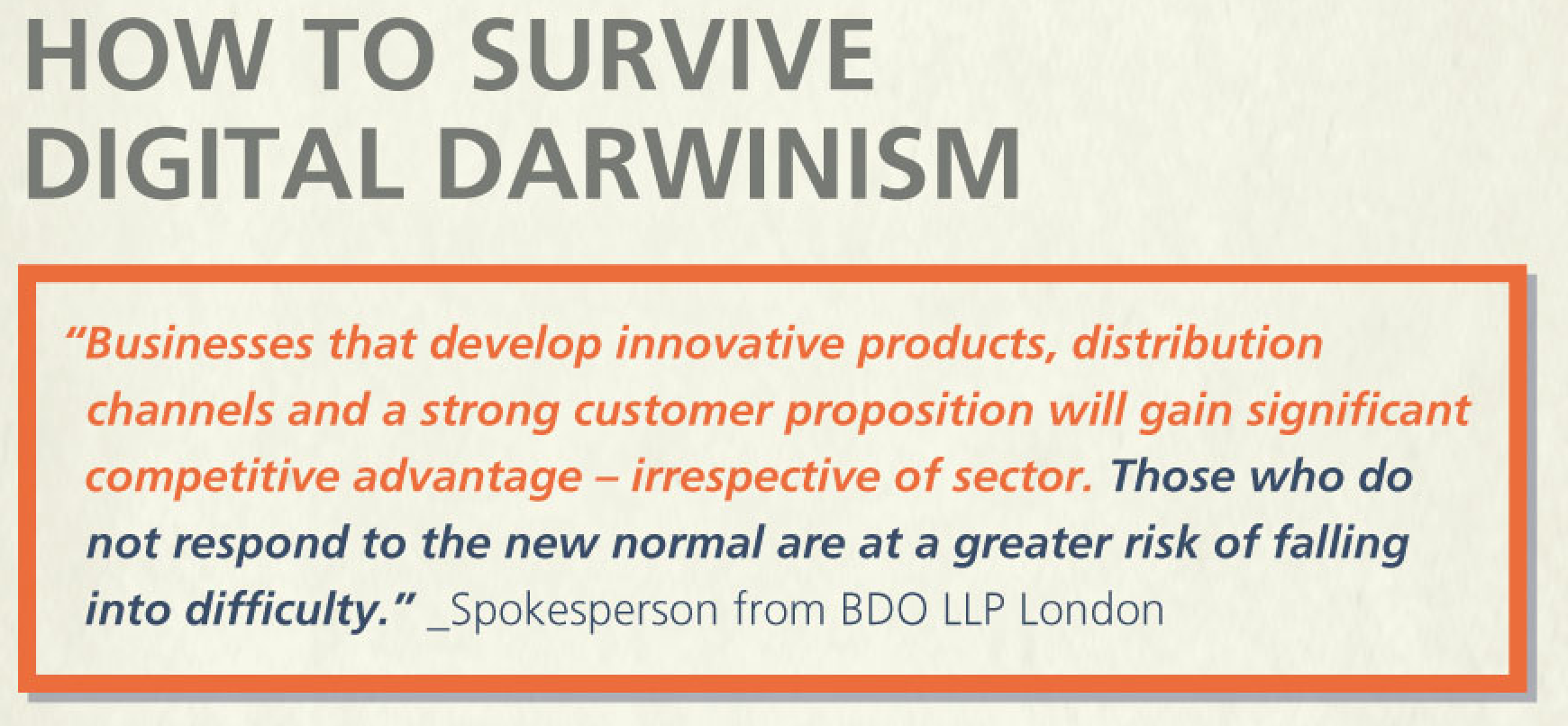 In 2012, BDO, LLC, a international services firm providing assurance, tax, financial advisory and consulting services to a wide range of publicly traded and privately held companies, published its Industry Watch Report. The findings presented a clear division between UK businesses that were able to take advantage of emergent growth opportunities and those who likely to wrestle with Digital Darwinism in difficult markets. As the report found, the "gap between business winners and losers widens."
Shay Bannon, Business Restructuring Partner, BDO LLP, commented in the report, "Businesses that develop innovative products, distribution channels and a strong customer proposition will gain significant competitive advantage – irrespective of sector. Those who do not respond to the new normal are at a greater risk of falling into difficulty."
The Hall of Shattered Dreams
When I think back to brands I grew up with and where they are today, it's saddening to see that many of them are gone or dying. Which brands do you remember and of those, which have vanished? Leaders recognize the precious relationship a brand can have with customers. At the same time, there's a sense of fragility, relevance and determination that must inspire leadership. As Intel's Andy Grove often said, "Only the paranoid survive."
While this is not the most cheerful story ever told, the silver lining is that right here, right now, management cultures must evolve into leadership cultures. And leaders must rise from somewhere and when they do, they need help…fast. You are either that leader or someone that will help leaders bring about meaningful transformation.
Competing for relevance is now a mission of every business and as such, it should be relentlessly pursued. The future of business is not about technology, greed, or short-term deals. It's about people, purpose, and experiences.
It takes vision
It takes empathy
It takes courage.
The future of business lies in the shift from a culture of management to that of leadership and…
it begins with you.