LinkedIn and Altimeter Group published a joint report on the value of corporate social media and its role in customer and employee engagement. To do, we formed a baseline of companies that were actively engaged on a platform we could effectively study.
After eight months of research, we assembled a list of the Top 25 Socially Engaged Companies based on how they use LinkedIn to engage employees and customers in the following areas:
1. Content marketing
2. Employee engagement
3. Talent and recruitment
4. Sales
LinkedIn and Altimeter Group then conducted targeted and controlled surveys to gather insights into how employees feel about their company's use of social media.
The results of both studies were visualized in one infographic entitled, "Relationship Economics." This infographic is the first in a series of research reports based on this massive initial study.
The Top 25 Socially Engaged Companies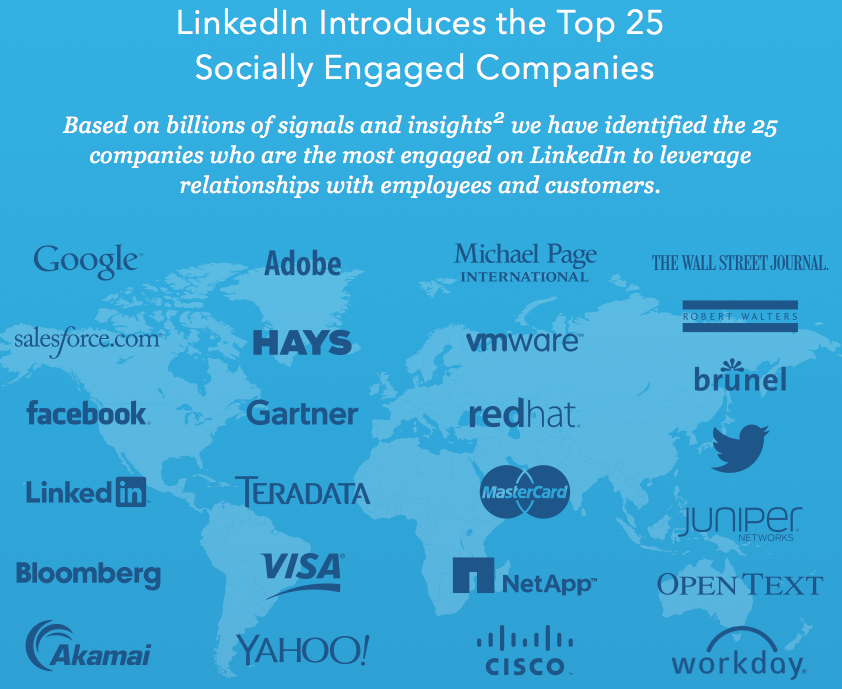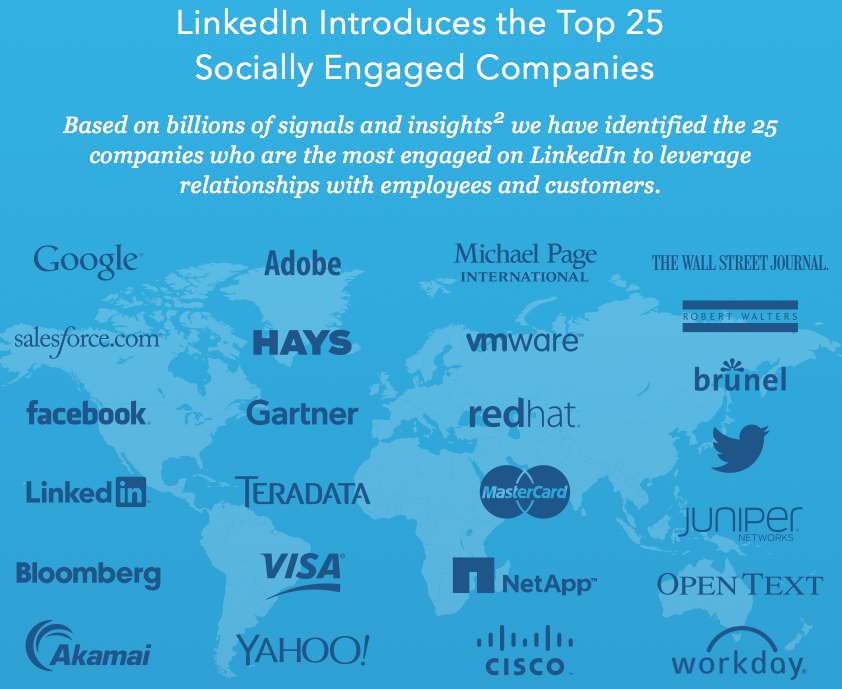 In no specific order, the Top 25 Most Socially Engaged Companies are as follows:
Google
Adobe
Michael Page International
The Wall Street Journal
Salesforce.com
HAYS
vmware
Robert Walters
Facebook
Gartnerbrunel
redhat
Twitter
LinkedIn*
Teradata
MasterCard
Juniper
Bloomberg
VISA
NetApp
OpenTesxt
Akamai
YAHOO!
Cisco
WorkDay
What We Can Learn From the Top 25 Most Socially Engaged Companies on LinkedIn
Perhaps more important than a list of companies is what we can learn from them. See, in the 2013 "State of the Global Workplace Report" from Gallup, only 13% of employees are engaged at work. That for lack of a better word, sucks. There's a reason why people aren't engaged and why many employees eventually become detractors or leave altogether.
"Everyone talks about building a relationship with your customer. I think you build one with your employees first," Angela Ahrendts, Senior Vice President of Retail at Apple
Getting work done and working together to get work done are separated in intention, mission, and vision. The state of employee morale is a reflection of the company culture. And the company culture is a manifestation of how managers or leaders work. Culture is either shaped and nurtured or its a byproduct of an everyday work ethic and all that's associated with it.
The Top 25 Socially Engaged Companies on the other hand actively invest in employee and customer engagement. Doing so yields results that impact the bottom line and more so, improve relationships and opportunities for reciprocity and greater productivity and collaboration.
What do they do differently and what effect does social engagement offer?
1.  Top socially engaged companies empower their employees to be brand ambassadors.
2. Employees are more engaged and optimistic at top socially engaged companies.
3. Social media engagement contributes to competitive advantage.
When companies invest in relationships with customers, employees, prospects and partners, they reap benefits measured in competitiveness, profitability, loyalty, and advocacy.
More in the infographic below…