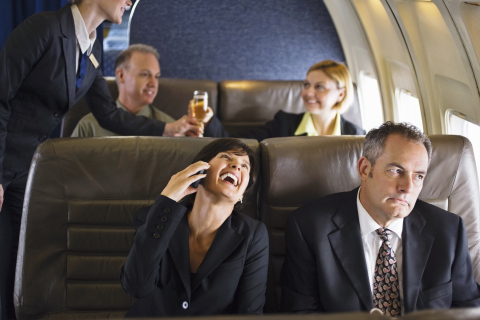 You've heard it a million times, a happy customer tells a couple of people and an unhappy customer tells everyone. Yet to this day, executives tend to run business strategy with an emphasis on transactions over experiences. More so, business value is expressed in short-term performance metrics and reports to an audience of shareholders and stakeholders over the very people who keep them in business…your customers. It's all a bit absurd when you think about it.
I know, I know…it's only business. But, what if business were personal again?
The other day, I read an article that made my jaw drop. In fact, it's still bruised from hitting the desk with such incredible force. The title of the piece hit home, which is why I clicked through without haste, "Why Airlines Want to Make You Suffer." The article was written by Tim Wu for The New Yorker and in it, he shares the gut-wrenching but sense-making reality of why flying sucks and why the customer experience with many airlines comes down to three letters: WTF.  Turns out there's money to be made in not just transporting people around the world at 500 mph, that's yesterday's business model after all! Instead, squeezing customers for extra dollars in every way is part of a program airline executives employ that can be best described as "strategic suffering."
See, the more a passenger hates the experience, the more they're willing to pay  incremental fees to avoid repeating it. That's the theory anyway. These include the following uncommon anomalies some hopeless passengers may endure…
Waiting in line to check in at the counter.
Pushing your way through the cattle call when boarding commencing,
Clamoring for that last overhead bin space that someone else seems to always get.
Doing a last minute repack when you learn your bag weighs just over the maximum allotment.
Having to push their knees against the seat in front of them to mimic a comfortable seating position.
Tussling with your neighbor over space because seats are practically stacked on top of each other these days.
Beg to be treated as a human being by airline representatives.
Losing status because you fly a lot but you don't pay premium prices for premium seats and services.
Indeed, we've all been there.
Hate the Flying Experience? You're Welcome
Bill McGee, a contributing editor to Consumer Reports who worked in the airline industry for many years, studied seat sizes and summarized his findings this way: "The roomiest economy seats you can book on the nation's four largest airlines are narrower than the tightest economy seats offered in the 1990s."
So, why do we suffer this? Why do we tolerate such intentionally shoddy experiences? I believe the answer is as simple as it is profound. It's because we have to. And if we don't like it, we can pay for a better experience.
More seats means more revenue.
Wider seats with more legroom equals more revenue.
Guaranteed space in the overhead bin equates to more money.
You get the idea.
It's not unlike the pain and misery consumers cope with to have the privilege of subscribing to cable or wireless companies. I laugh when I receive emails and txts from these faceless service providers asking if "I'm likely to recommend said company to someone."
Um, how about no!?
The point is that customer experience should trump everything. Customers have preferences. They choose to support companies that appreciate them. And you know that we live in a sad state of affairs when good customer service makes us feel at ease. You know things are pathetic when today's customers are willing to pay a premium just to avoid a negative experience.
Wall Street vs. Customer Experience
JetBlue for example has stood up for the everyday flyer over the years. It's one of the reasons customers love the airline. In fact, they are loyal to the company simply because they're valued and as such, the customer experience is at the heart of everything. As such, JetBlue refused to follow the pack of hoodlum airlines that colluded in the standardization of extra fees as part of this "strategic suffering" campaign. JetBlue was rewarded for this stance having posted consistent profits and a rising stock over the years while other greedy airlines have underperformed.
But no, the market, meaning Wall Street, won't have it. They can't see the benefit of customer experiences and the impact of positive reinforcement on the bottom line. I guess you can't trade on something so fluffy. Instead, Wall Street analysts and shareholders alike accused JetBlue of being "overly brand-conscious and customer-focused."
Cue the screeching brakes.
Wall Street has spoken and JetBlue CEO Dave Barger was replaced by Robin Hayes, someone Wall Street hopes is willing to embrace extra fees, narrower seats, and diminished customer experiences…unless they're willing to pay for something better.
Stifel analyst Joseph DeNardi who pushed for the ouster of Barger celebrated the concerted moans of customers everywhere with a monologue worthy of a Bond villain, "JetBlue is in a nice position where it can do no wrong. Bad news is good news because they will be more likely to pursue a more shareholder friendly business strategy."
If only shareholders flew like the rest of the people whose experience they're deliberately compromising.
Now Hayes is wrestling with the balance between appeasing passengers and Wall Street.
To appease investors, Hayes recently announced that JetBlue will add a fee for the first checked suitcase. It's estimated that this new perk (note the sarcasm) is estimated cash in an additional $200 million annually in the next two years. To ease passenger frustration and improve in flight customer experiences for those in economy, JetBlue will also add 15 seats to its current layout. Profits up. Legroom down. Why does personal space matter anyway?
The most interesting thing here is that JetBlue's brand was built upon a foundation of customer experience. What happens when the experience dramatically (and intentionally) wanes?
Profits go up sure. But what happens over time? Brand value falls and shareholder value rises for a while. Then what?
It's Time for Us to Go Our Separate Ways: It's Not Me, It's You
What if we cared enough about people to deliver incredible experiences that naturally fed profitable transactions? Said another way, what if we invested in customer experiences so that they were meaningful and more so, what if we rewarded customers not just for their business but also for their digital influence? That's right, positive conditioning.  Investing money, time and resources in the very thing that creates a community of customers willing to pay for a better customer experience at large?
See, investing in strategies that makes doing business with you so incredible eliminates or voids religious metrics such as Net Promoter Score (NPS).
It's "would you refer someone?" vs. "did you refer someone?"
The answer comes down to the experience someone has and shares. That takes intent and design. Furthermore, the answer to either question should never be an unknown, a surprise nor assumed. The answer is designed as a result of the intentional investment made in meaningful and valued customer experiences. Any brand that places stakeholder or shareholder value above customer experience are simply out of touch with customer preferences, expectations and their power to demand something better. Because, given time and opportunity, they will.
Profit is important. But, a little empathy goes a long way. What starts with experience ends in long-term relationships. And, that's priceless. People shouldn't dread doing business with you. Nor should we make human beings pay to suffer a little bit less. In the end, customers and their experiences, are everything.
Connect with me… Twitter | LinkedIn | Facebook | Youtube | Instagram | Pinterest

Photo Credit: LIFESIZE / GETTY IMAGES via TIME