On a cold and rainy day in Minneapolis before year's end, I joined my Prophet colleagues at Le Meridien Chambers where we hosted a breakfast of brand champions. It was the second time this year that I was invited to speak to some of the city's (and the country's) most prominent companies and this time I had even more new research and ideas to share. During the two hours that we were together, I presented findings from "The 6 Stages of Digital Transformation," "The 2016 State of Digital Transformation, "8 Success Factors of Digital Transformation," and of course, "X: The Experience When Business Meets Design."
Prophet's Katie Lamkin captured the details of the presentation and the ensuing conversation. I wanted to share it with you here…
The State of Digital Transformation Live
Brian Solis recently hosted a discussion with brand strategists in Minneapolis about digital transformation and experience design. Over breakfast they discussed how consumer expectations for personalized, real-time, multi-channel experiences have grown, and how brands can adapt to this new standard.
Four key themes emerged from the conversation. Brands should look carefully at how their organization can overcome these common challenges:
1) Companies are still prioritizing technology ahead of customer-centricity.
Many companies have started tackling the challenge of digital transformation, but unfortunately many are beginning in the wrong place. They are investing in technology solutions without first having a clear understanding of the customer and their expectations, preferences and values. In fact, only 54% of companies have completely mapped out the customer journey. The rest are tackling digital transformation without establishing an end goal.
2) Mature companies are using customer experience as a catalyst.
The ones who are doing it right are working to define a good experience from the consumer's perspective and working backwards from there. Too many marketers don't have a true understanding of their customers. They try to put themselves in the consumer's shoes, and end up skewing the data. Because we are not our customer. And as marketers, it's our job to make the decisions that are right for them. Ultimately, we must allow people to go through the journey the way they want, instead of forcing them to go through the journey that we think is best.
3) Only 20% of digital transformation leaders are studying the mobile customer journey.
The importance of mobile cannot be overstated; it has become the central point of people's lives. Google has even coined a phrase to describe the moment that people reflexively turn to their mobile devices to do something, learn something, watch something, or buy something. Google calls these "micro moments" and they are essential to marketers who want to tell a cohesive story across devices. Not understanding the mobile customer journey makes companies ripe for disruption from outside forces.
4) There is a big difference between being iterative and being innovative.
Many companies think they are innovating, when they are simply iterating. Innovation is about creating wholly new ways to solve problems and unlock new value. Iteration is doing the same thing, just with better technology. Chatbots are a great example of this. Many companies are adopting this technology as a frontline engagement solution. Rather than re-imagining the moment and overall experience, initial solutions for chatbots mimic modern-day call centers. They're simply trying to add a semblance of AI to facilitate common transactions without human intervention. It's not unlike automated technologies introduced in current customer service experiences. It isn't (yet) an improvement for the consumer. The companies who will succeed are those that are not afraid to challenge convention.
Brian summed up the session with one of his favorite quotes:
If you're waiting for someone to tell you what to do, you're on the wrong side of innovation.
Companies should be working to transform themselves from the inside out by continuously working to understand how consumer behaviors and preferences are evolving, and reshaping their offerings accordingly.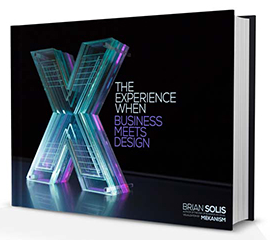 Please read X, The Experience When Business Meets Design or visit my previous publications
Connect with Brian!
Twitter: @briansolis
Facebook: TheBrianSolis
LinkedIn: BrianSolis
Youtube: BrianSolisTV
Snapchat: BrianSolis
Invite him to speak at your next event or meeting.