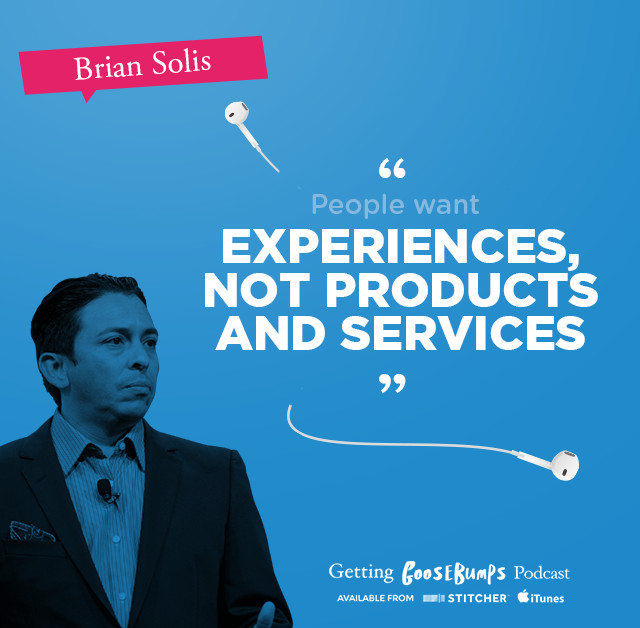 Bryan Adams hosts a great podcast on creativity and storytelling called "Getting Goosebumps." Shortly after publishing X: The Experience When Business Meets Design, Bryan invited me to be on the show and I'm sure glad he did! What a great conversation!  I've included it below…
Getting Back to Customer Centricity with Brian Solis
For this week's episode of Getting Goosebumps, I had the chance to chat to Brian Solis. Brian's the principal analyst at Altimeter Group and a sought after keynote speaker. He's an expert at leading brands and start-ups to develop their digital transformation!
Also a talented writer, Brian runs a leading business and marketing blog. He's also the author of several books, including his latest book X: The Experience When Business Meets Design.
People want experiences
As the main focus of his latest book, Brian shares his knowledge on the great economic impact of customer 'experiences'. He shares why people are willing to spend more with a company that they actually believe in. People care about each stage of their interaction with a brand. So, ensuring each step of the journey offers the audience value is essential.
With that in mind, we take a look at the brands really investing their time in developing the 'experience' customers have each time they interact. There's a lot to learn from those getting it right!
Getting back to customer centricity
Are we really customer centric? We discuss how cognitive bias gets in the way of true customer centricity.
As the digital world keeps advancing, Brian shares how to keep up with the game and make sure everything we do resonates with today's customer, not yesterday's customer.
The power of empathy
Ultimately, we should be asking customers how they feel. We cover the power of empathy and why we need to show that we care.
As Brian puts it, we need to be marrying technology with human emotion!
Listen to the show!
Listen on Apple Podcasts
Bonus Material


Brian Solis, Author, Keynote Speaker, Futurist
Brian Solis is principal analyst and futurist at Altimeter, the digital analyst group at Prophet, Brian is a world renowned keynote speakerand 8x best-selling author. In his new book, Lifescale: How to live a more creative, productive and happy life, Brian tackles the struggles of living in a world rife with constant digital distractions. His model for "Lifescaling" helps readers overcome the unforeseen consequences of living a digital life to break away from diversions, focus on what's important, spark newfound creativity and unlock new possibilities. His previous book, X: The Experience When Business Meets Design, explores the future of brand and customer engagement through experience design.
Please, invite him to speak at your next event or bring him in to your organization to inspire colleagues, executives and boards of directors.
Follow Brian Solis!
Twitter: @briansolis
Facebook: TheBrianSolis
LinkedIn: BrianSolis
Instagram: BrianSolis
Pinterest: BrianSolis
Youtube: BrianSolisTV
Newsletter: Please Subscribe
Speaking Inquiries: Contact