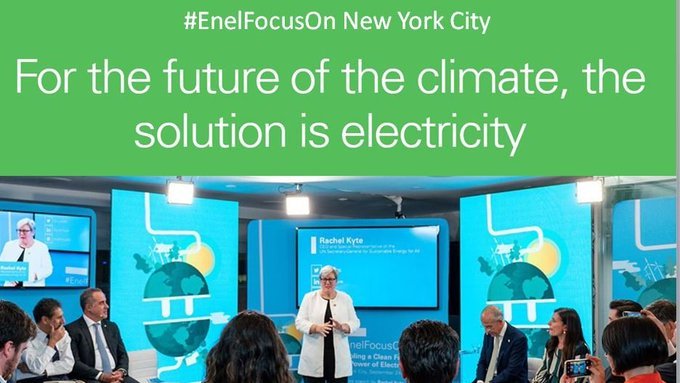 When I'm not immersed in reverse-engineering (or trying to make sense of) the "future of" industries, I focus on the future of us. I seek-out unique partnerships to spotlight the important work of companies investing in the betterment, sustainability and well-being of our lives.
During #ClimateWeek, I had the privilege of participating in a special #EnelFocusOn panel with Enel Group CEO Francesco Starace and Rachel Kyte, Special Representative of the UN Secretary-General for Sustainable Energy for All. The conversation took place in New York following the Climate Action Summit at the United Nations . It was advocated by UN Secretary-General António Guterres in order to urge governments, businesses and civil society to step up their efforts in the battle against climate change.
At this event, the #EnelFocusOn topic was "enabling a clean future: the power of electricity."
The keynotes by Starace and Kyte were inspirational and hopeful. But more so, they were concrete in how companies, countries and individuals can act and have acted. An important point made, which was reassuring to hear, is that the examples shared were less about what we need to do and more about the less oft heard stories about what actually is happening around the world.
Energy is a key enabler for progress and growth. In fact, a sustainable future of widespread wellbeing depends on clean and accessible energy for all. And the most powerful solution to help us achieve such a future is electricity.
Starace explained the unique challenges facing the future of clean electricity. As he described, it's a product that is different from others and difficult to describe, because "it can neither be seen nor touched." Electricity is also something we take for granted. We need it. We just don't think about it because it's readily available, for the most part, when we need it. What it takes to produce electricity is the problem. To ensure a sustainable, cleaner future, investments must focus on renewables t0 decarbonize electricity.
"Clean electricity possesses an almost unlimited potential that is powerful enough to help us emerge victorious in the epochal challenges of global warming and inequality," exclaimed Starace. "Demand for energy around the world is growing constantly and demand for electricity is growing at double the pace. Technology is making electricity increasingly cheap, stable and reliable, liberating it from the price fluctuations of fossil fuels."
He continued, "The energy transition is being driven by the exponential development of new technologies, in particular in the field of renewables, where progress in materials science has made it possible to achieve reductions in generation costs that would have been unimaginable a few years ago."
Basically, he argued that the benefits of clean energy powered by renewables and sustainable processes can decarbonize electricity and numerous other sectors of the economy. Rather than degrade our planet's health and wellness, and our future, actual sustainability becomes climate's ally and a smarter business decision.
In years prior, to do the right thing for our climate was expensive. And with the focus on profits and shareholder returns, the ROI just wasn't there. But as Rachel Kyte pointed out, renewables gives way to decentralization, allowing us to rethink traditional energy grids and plants, deliver energy to previously unreachable places and "have clean energy preserve the environment at a cost that everyone can afford."
"If we manage to create a decentralized, decarbonized and digitalized energy system, we will have a truly democratic energy scenario, with universal access, the possibility to produce it autonomously and to take it anywhere it is required," she emphasized. "No one would be left behind. This dream is achievable, and it can be done through electricity."
There's much work to be done.
"In theory nothing can stop us," Starace exclaimed. "The classic question is: is there enough money to finance the energy transition? The answer is clearly yes: the financial community not only wants to but needs to invest in this sector."
So what's preventing us from decarbonization and and a cleaner, healthier future?
Like in any form of creative destruction (or digital Darwinism), there's an incredibly powerful, influential and wealthy old guard who refuse to release their stronghold on the past, continue to squeeze planet Earth of her resources at the expense of everything and everyone, and protect themselves and each other at any cost.
Rachel Kyte urged us to get to the heart of the matter, "in order to achieve this, technology is not enough, what is essential is the political will to discard the old rules. It is necessary to fight the inertia of the traditional system, which sees its own interests and jobs at risk and is therefore resistant to change, and we must face down the tendency to ignore the most urgent problems linked to global warming."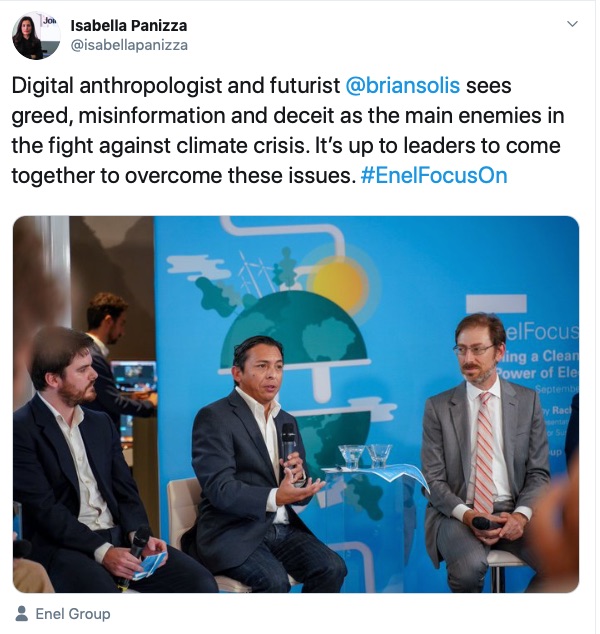 The future, however, is not theirs. It's ours.
It's time to take it back.
Everything starts with bold and resilient leaders who not only have the vision to imagine a cleaner electrified future, but also the courage to unite with other leaders and take action.
In his closing comments, Starace shared this sense of purpose, "Many electricity companies were created many years ago, and all of them with the same mission: to encourage the development of society." He continued, "After all these years, our mission has not changed: we are still here to serve the people. This gives us an enormous sense of purpose, and this is also our greatest strength."
There's a new sense of purpose now. We have a new society to serve and future generations, and a beautiful planet, to protect.
Visual Highlights from #EnelFocusOn