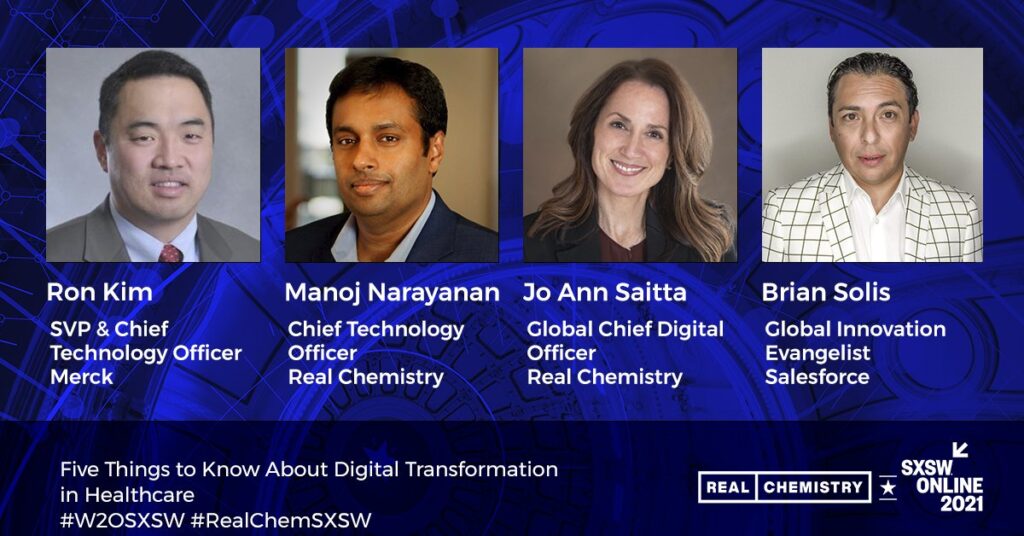 Brian Solis, Global Innovation Evangelist at Salesforce, joined Ron Kim, SVP and Chief Technology Officer at Merck, and Manoj Narayanan, Chief Technology Officer at Real Chemistry, to explore "Five Things to Know About Digital Transformation in Healthcare." The session was an official part of SXSW 2021 programming.
Hosted by Jo Ann Saitta, Global Chief Digital Officer at Real Chemistry, the panel explored digital and human dimensions of what the future of healthcare innovation should be in a post-pandemic economy.
Digital has inspired patients to become…impatient. 
Highlights
LIVE NOW: Hear about digital transformation in healthcare? 4 experts join us as we tease upcoming research report with HCPs and patients: @briansolis, Ron Kim (CTO of Merck), @manoj7698 (our CTO) and @j_saitta (our Chief Digital Officer). https://t.co/qWCXK8SYuR#realchemSXSW

— Aaron Strout (@AaronStrout) March 17, 2021
"Digital transformation can improve communication with all stakeholders. It's an opportunity for a renaissance." @briansolis, Global Innovation Evangelist, @salesforce #RealChemSXSW #W2OSXSW

— Real Chemistry (@RealChemistry_) March 17, 2021
"We talk about the patient experience but we don't put them in the centre of what we do" SO true! @briansolis #sxsw #realchemsxsw #pharma

— Alexandra Fulford (@pharmaguapa) March 17, 2021
"It's a matter of intent. We have to challenge ourselves to approach technology and make it more valuable to patients. Patients want things faster and more personalized. Technology should make us more proficient in delivering experiences." @briansolis (@salesforce) #RealChemSXSW

— Real Chemistry (@RealChemistry_) March 17, 2021
"The spirit of SXSW is all about possibility, entrepreneurship, humanity. These are all things that have been missing from healthcare" Harsh but sadly true @briansolis #realchemsxsw #sxsw

— Alexandra Fulford (@pharmaguapa) March 17, 2021
@briansolis talking about how we come to #sxsw as individuals & we go through personal transformation at the event & we leave inspired & more confident. Sooo true! After my 1st SXSW I quit my job the day I walked back into the office because of my experience #realchemsxsw

— Alexandra Fulford (@pharmaguapa) March 17, 2021
After #sxsw we go back into a really rigid industry & we have to drive change. Healthcare is all about care & we have to shift from "we can't do that" to what is possible. So agree – we need to shift the mindset of the industry #realchemsxsw #pharma @briansolis

— Alexandra Fulford (@pharmaguapa) March 17, 2021
"It's shifting from 'the doctor will see you now' to "the patient will see you now.'" @briansolis, Global Innovation Evangelist, @salesforce #RealChemSXSW #W2OSXSW

— Real Chemistry (@RealChemistry_) March 17, 2021
Thanks for sharing your expertise on the digital transformation of #healthcare: our client, Ron Kim (@Merck), @briansolis (@salesforce), and Real Chemistry's @j_saitta & @manoj7698. #RealChemSXSW #W2OSXSW pic.twitter.com/X9GGSlRTaQ

— Real Chemistry (@RealChemistry_) March 17, 2021
https://twitter.com/briansolis/status/1372253758042763264
You were brilliant!

— Aaron Strout (@AaronStrout) March 17, 2021