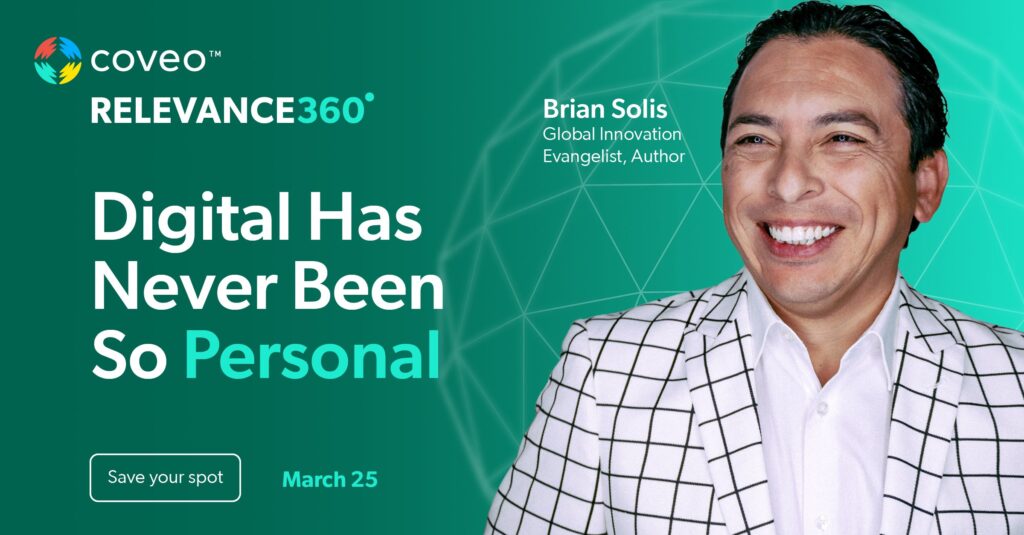 For industries to stay competitive in today's online economy, they need to use artificial intelligence (AI) to offer personalized recommendations and experiences to survive and win. In a recent Coveo survey of nearly 200 US consumers, respondents reveal how markets are falling short.
For e-commerce, 9 out of 10 customers expect their online shopping experience to be better than in store, and half of them already face dissatisfaction. And, 50% of customers say they sometimes or always have a problem when shopping online.
In customer service, 73% of customers will abandon a brand after three negative experiences, ultimately affecting business revenue.
And as for the workplace, employees waste over 30% of their day due to outdated technology that doesn't suit their data-finding needs.
On March 25, 2021, Coveo hosted the interactive virtual summit, Coveo Relevance 360: "The Future of Experience Is AI." The two-hour event featured a lineup of CX leaders who shared how businesses can level up its digital operations with the right tools to become fully relevant for each stakeholder.
Speakers included:
R "Ray" Wang, principal analyst, founder, and chairman, Constellation Research Inc.
Brian Solis, global innovation evangelist, digital anthropologist, author
Rachael Powell, chief customer officer, Xero
Louis Tetu, chairman and CEO, Coveo
Michael Ni, chief growth officer, Coveo
Here are some of the highlights from the session between Louis Tetu and Brian Solis…[watch the full event here].
"Customers are digital-first by necessity, and they're much more conscious of their decisions and loyalties because of the somatic marker that is COVID-19."-@briansolis, Author, Digital Anthropologist, and Global Innovation Evangelist at @salesforce pic.twitter.com/qYg0XNNV5E

— COVEO (@coveo) March 24, 2021
Brian dropped some serious knowledge! #Relevance360

— COVEO (@coveo) March 25, 2021
"Customer experience is the number one catalyst driving digital transformation right now." — @briansolis at #Relevance360 #CustomerExperience pic.twitter.com/kvuy6KBgZs

— Dan Gingiss (@dgingiss) March 25, 2021
LIVE at Coveo #Relevance360 with @briansolis, Global Innovation Evangelist @salesforce, Digital Anthropologist & Author

"Experience is in the eyes of the beholder."-@briansolis pic.twitter.com/semlNxYkGD

— COVEO (@coveo) March 25, 2021
MY MAN @briansolis (The Godfather of #CX) joins @CoveoLouis to talk about Relevance.#relevance360 pic.twitter.com/KTAtYTIwjw

— Dan Gingiss (@dgingiss) March 25, 2021
"Any great transformation or any great innovation starts because someone like you decided to see things differently and do things differently as a result" @briansolis #Relevance360 #Coveo

— floisand (@floisand) March 25, 2021
We all have the opportunity to get closer to our customers and be more relevant, says #CX guru @briansolis of @salesforce at #Relevance360 (w/ @CoveoLouis) pic.twitter.com/lQYKJlgDSO

— Dan Gingiss (@dgingiss) March 25, 2021
Did you know?

"75% of customers have experienced a new brand during the pandemic."-@briansolis at Coveo #Relevance360 pic.twitter.com/Ykwwu5jenb

— COVEO (@coveo) March 25, 2021
Such a good point from @briansolis — Doing #customerexperience right is not as hard when you focus on what YOU as a customer would want. #Relevance360 pic.twitter.com/tNTgQ9XhkA

— Dan Gingiss (@dgingiss) March 25, 2021