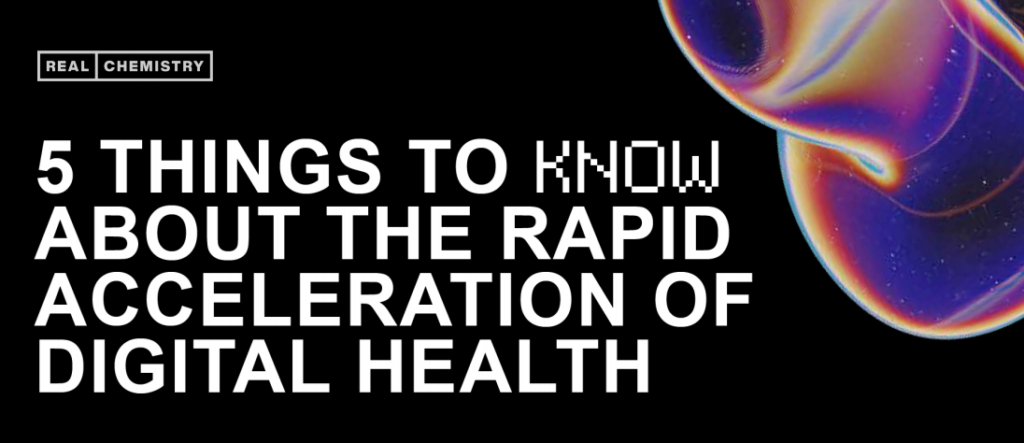 Following the conversation at SXSW 2021, "The Path Forward to Healthcare Innovation and Digital Transformation," Real Chemistry published important research (and an infographic), to spotlight, "5 Things to Know About the Rapid Acceleration of Digital Health."
The study was published by Jo Ann Saitta, Global Chief Digital Officer and Manoj Narayanan, Chief Technology Officer, Real Chemistry
Abstract
A silver lining from the COVID-19 global pandemic is the rapid acceleration of digital health and telemedicine. In early 2021, Real Chemistry set out to better understand the impact of this digital transformation in healthcare, surveying 1,000 patients and 500 physicians across specialties, and conducting qualitative interviews of senior leaders from biopharmaceutical companies. The findings show important shifts in both doctor and patient behavior that deserve new approaches by biopharmaceutical companies. Doctors are more broadly online in their professional and personal life — reaching doctors in the right place with the right message is more complex today than ever before. Companies wanting to be better connected with physicians to improve healthcare will need to use technology and digital approaches that provide advantages in diagnostics, treatment, and monitoring. It is also critical to help empower patients, as they are more active in their ongoing monitoring of disease and seeking new ways to engage within the healthcare system.Those companies seeking to be patient centric must connect, educate and empower patients through ongoing dialogue and direct to consumer attitude and capabilities.
Click here to download the full report. 
5 Things to Know About the Rapid Acceleration of Digital Health
1. Doctors are more digital. Over 80% of physicians embrace health-related tech in their personal and professional lives.
Overall, more than half of physicians state they are comfortable with digital technology in their practice. While roughly one-third state a high level of comfort with social media, those who treat low incidence/rare diseases are the most comfortable.
Physicians visit a wide array of healthcare-related sites for gathering information, with UpToDate the most frequently visited site, followed by WebMD and Sermo.
When it comes to social media, most physicians use YouTube and Facebook for personal use, and for many, this transfers into their professional use. While Clubhouse is new, there is already some adoption among physicians professionally.
"Digital transformation means using technology to make sure every part of the experience is the most efficient…we can start simple." – Ron Kim, SVP & Chief Technology Officer, Merck

2. Physicians who are high adopters of technology behave differently. They strongly believe it will improve patient care. 
These high technology adopters are far more likely to recommend health-related digital technology like smart phones and wearable fitness devices to their patients.
Although most physicians offer patient portals and email/secure messaging, physicians who are high digital adopters are more likely to offer and place a high value on online scheduling, resource libraries, in-office screens and wearable devices.
Doctors who are high digital adopters are more likely to use videos when treating patients, most often to display information on disease education, procedures or treatments.
3. Patient adoption of digital is transforming healthcare. Patients who embrace digital believe it will empower them to manage their own health. 
Digital adoption for healthcare providers matters to patients. About one-fifth of low/moderate digital adopters are more likely to select a physician based on their digital use, and the rate for higher adopters is nearly twice as high.
The rate of digital adoption among patients who suffer from chronic diseases is very similar to that of physicians, with two-thirds demonstrating moderate or high adoption of digital technology.
Digital technology is also impacting patient visits, as roughly one-third or more of chronic patients already prefer telemedicine for routine visits and check-ins for their disease treatment.
Most patients who have chronic conditions prefer to receive links to specific websites, online disease-related resources and patient advocacy groups for their conditions; 47% of high digital adopting patients also prefer links to pharmaceutical company/product sites.
About one-quarter of chronic patients had direct communication with pharmaceutical companies in the last 12 months; more than half contacted the company for product information. High digital adopters were much more likely to reach out to the companies for information.
"We need to reimagine how we operate so that technology doesn't just automate, improve, or make things more efficient…we become more proficient in delivering the types of experiences that people want to have." – Brian Solis, Global Innovation Evangelist, Salesforce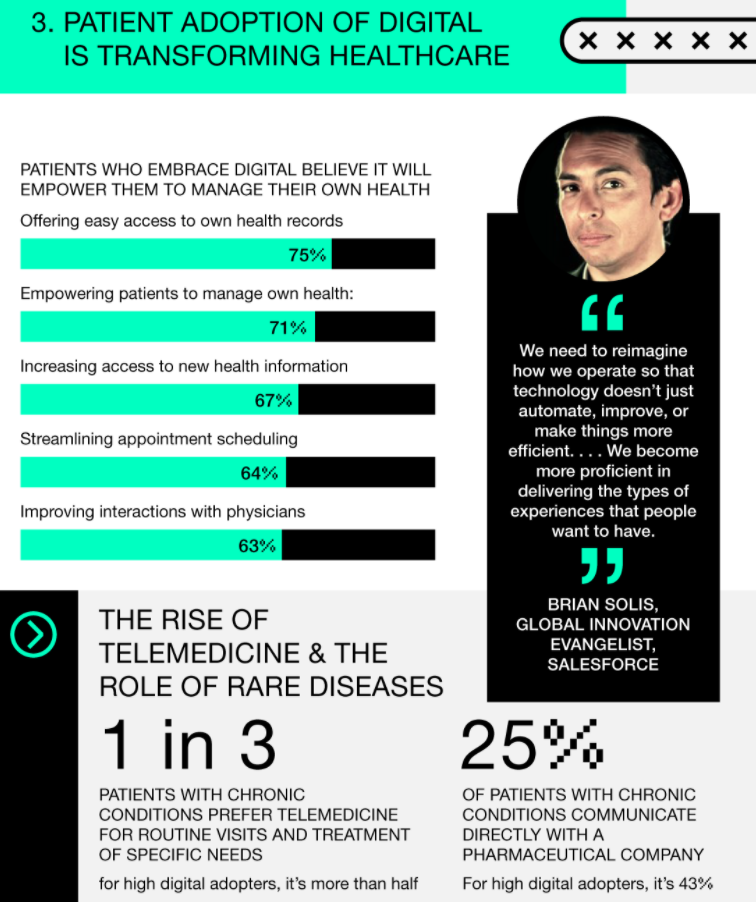 4. The way pharmaceutical companies interact with physicians is also changing. 
Although in-person rep visits have declined significantly due to COVID, physicians continue to find in-person rep visits more valuable than alternative interactions. Nearly half of digital adopters find other rep visits to be very/extremely valuable.
When learning about new products, physicians state that reps continue to play an important role; 58% of doctors cite reps as a top source of information, second only to journal articles.
Physicians report that pharmaceutical companies were most effective at providing samples and responding to questions during COVID, but less effective at providing patient materials or supporting other needs.
As companies look to find new ways to communicate and partner with physicians, they will likely need to manage resistance, as doctors continue to see in-person rep visits as their top choice to interact across an array of needs.
5. Doctors and patients see additional transformation coming
While physicians anticipate telemedicine/virtual visits to decrease following COVID (but not to pre-COVID levels), they overwhelming believe that their own use of digital technology will increase.
Patients suffering from chronic conditions expect to increase their use of health and wellness tools over the next two years, particularly health-related apps, wearable fitness devices and smart watches.
As doctors and patients continue to become more digitally focused, companies need to be prepared.
In a digital-first world, the patient experience is no longer  driven by a legacy mindset of "the doctor will see you now." Experience is in the eye of the beholder. Experiences are personal, real-time, and need to be designed as such. For innovative healthcare providers, the mantra is now, "the patient will see you now."
Please click the image to see the full infographic…