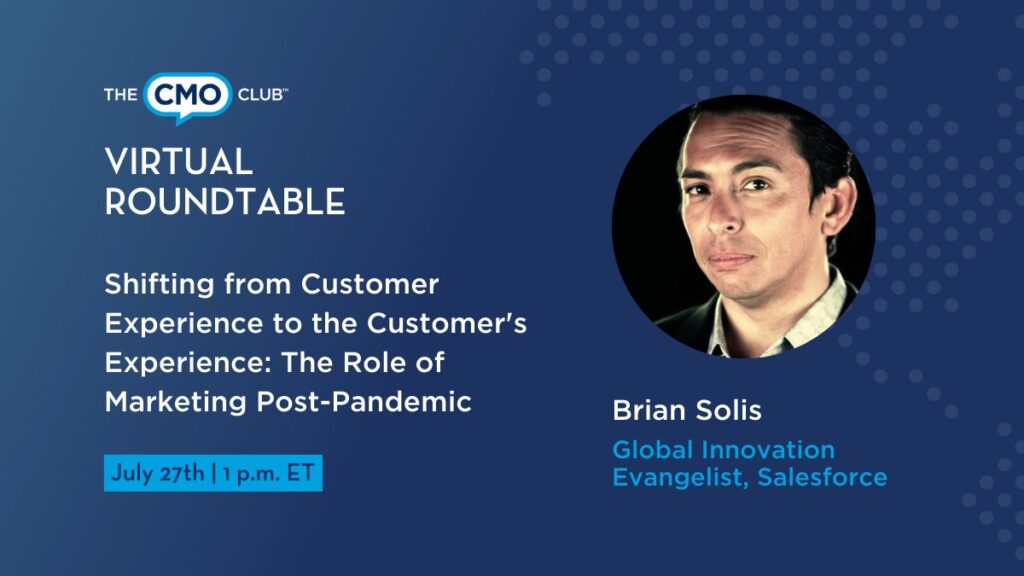 Salesforce Global Innovation Evangelist, 8x Best-Selling Author, and World-Renowned Keynote Speaker Brian Solis will host a special virtual event for the CMO Club, "Shifting from Customer Experience to the Customer's Experience: The Role of Marketing Post-Pandemic."
July 27, 2021, 1 p.m. ET
Members, please RSVP here. Not a member but interested in attending? Request to register here!
About this event
The pandemic didn't just accelerate digital transformation. It completely disrupted customer behaviors. It fundamentally reset customer expectations. It drove a profound recommitment to customer values, and a reframing of their aspirations. Even as vaccines become more widely available and the eventual light at the end of the tunnel becomes clearly visible to more people, the shifts that started with the pandemic continue to evolve around what Salesforce Global Innovation Evangelist Brian Solis calls, "Digital Darwinism."
Technology, innovation, and markets will continue to push businesses to continually transform to keep pace with the evolution. But who's going to champion and lead that change? Who's going to set the standards for customer engagement and experiences throughout their journey in ways that align with the forward movement of society and markets? A new generation of marketing leaders is emerging: they understand what matters to customers at a data and empathetic level. And what doesn't. They are stepping up to own the next-gen outcomes and experiences.
In this session Brian explores the next generation marketing leader that will blaze the trail in this post-pandemic era, where customer's journeys are reimagined and customer's expectations are redefined.