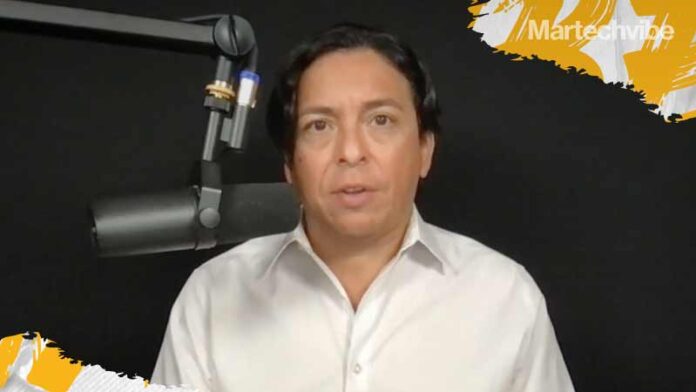 A summary of Brian Solis' keynote presentation at the recent Martechvibe Fest event in South Africa by Suparna Dutt DCunha
People keep saying it: everything has changed. As the days spent in our homes blur together, outside in the world of marketing, huge shifts in consciousness are happening.
The pandemic is teaching marketers not just to be digital, but to use it to bring new experiences that are more intuitive, productive, efficient and exciting for customers, and also be empathetic, according to Brian Solis, the global Innovation evangelist at Salesforce. Speaking on Day 2 of the Vibe Martech Fest South Africa about the new role of integrated marketing and CX in a novel economy, he said, "The novel economy is the term I came up with to describe the new normal. It's not an old new normal, it's not necessarily a new normal, it's a future without a playbook yet."
Even before the pandemic, customer experience was becoming an area for differentiation among brands that really got it, Solis said. Now, in a world where digital has exposed weaknesses and opportunities in every company, experience is the foundation for surviving and thriving in every company in the novel economy.
But what really changed in 2020 and 2021? How has digital and pandemic stress affected customer behaviours and expectations? What does "brand" mean now? Who owns CX moving forward? What is the new role of marketing now?
Looking out in the future, there are several trends playing out, but digital-first consumer behaviour tops the list. "It's not just accelerating digital transformation, but human transformation as well," said Solis. Emphasising the new behaviour is bringing new expectations and merging real-world and hybrid experiences, he said, "the next big disruption is loyalty, retention is critical, and acquisition is an opportunity."
Solis, also an author, a former analyst, publisher of over 60 plus reports, and also an aspiring digital anthropologist, said last year he witnessed the rise of Generation-Novel. "Basically, they are those hand-in-hand in the novel economy, which is about how digital changes us all equally. How the internet, social media, apps, games, online economy, working from home and learning from home changed us, and how we can bring these data-driven insights to give us visibility into what people love and what people expect."
The experience a company provides is as important as its products and services. It is critical, said Solis. "Experience is not transactional. It is emotional. We want people to feel great every single time they touch us. And this is where disruption becomes a card, a factor in the novel economy."
All around the world, people are experimenting with new brands, new services. McKinsey's research illustrates that 75 per cent of consumers have tried different stores, websites, or brands since shutdowns. And, 60 per cent of those consumers expect to adopt new brands and stores into their post-pandemic lives and routines.
"Why are people doing this? Is it convenient? Is it personalisation? Is it innovation?" asked Solis. "Brands must prioritise to understand the change in behaviour. Customers have been telling us for several years, but more so now in this pandemic driven anxiety, divisive world, that they want us to understand their unique needs and expectations."
"They want us to demonstrate empathy, they want integration throughout their journey. Now, they are emphasising to use digital, not just to digitally transform, but use it to bring to life new experiences that are more intuitive, productive, efficient and exciting," added Solis, who was called by Forbes as "one of the more creative and brilliant business minds of our time".
Digital Imperative
The digital imperative is more than digitisation. Over 85 per cent of customers expect companies to accelerate digital initiatives, 69 per cent of customers say companies should offer new ways to get existing products and services, 54 per cent want companies to expand customer engagement methods, and 54 per cent want companies to innovate, offer new types of products and services.
A new generation of customers is taking shape and with it, new standards for experiences and values emerge. "Generation-Novel now wants brands to demonstrate values and to align with their values." In fact, number one on the list of where customers want to see the brand transformation is in trustworthiness. "They want you to stand for something, beyond corporate social responsibility, beyond the trendiness of being sustainable or human-centred," said Solis.
According to Solis, brand engagement and experiences are opportunities to align with customers. According to a survey, over 60 per cent of customers have stopped buying from companies whose values didn't align with theirs. Environmental practices, action on racial injustices, treatment of employees during pandemics and action on economic injustices are some of the things that influence the decisions of the customers to buy from a company. "Now, customers are more conscious, more awake, and they are exercising their power of discovery," said Solis.
Customer experience 
So who owns the customer's experience?
According to Solis, the customer owns their experience. "We just do our best to be stewards of delivering an experience we feel that they are going to love. Not just align with it, but seek out and tell everyone  around."
When it comes to customer experience, CMO has a significant role in transformation, according to Solis. "It's not just about brand style guides, advertising, messages and email, digital touchpoints and conversion, those things are important, but what is really important is how you use marketing to communicate what you stand for in this new world, and why they should align with you moving forward."
In the Salesforce State of Marketing report 2020, almost 80 per cent of high performing organisations say they lead customer experience initiatives across their organisations. "Remember the customer's experience is the sum of all engagements a customer has with your organisations, in every touchpoint, throughout their journey. Together they all add to form the brand from their perspective, from what they see and what they feel," said Solis.
Solis says that it is essential to find out what the customers are seeking and innovate what they don't know they are seeking in that journey. "Today, there are things that are broken in the journey that we can fix, there are also moments we can create that doesn't exist in that journey."
There's an opportunity to innovate everywhere by using technology as an enabler for better experiences. Based on those experiences, companies must work cross-functionally together to deliver, foster meaningful relationships and drive growth. "How we talk, how we email, how we advertise, how we market, how we message, how we serve, how we sell, all become part of an experience style guide," he added.
It is imperative that marketing leaders make change happen, starting with the shift from promoting brands and products as their purpose to plugging into 360 customer insights and driving experience innovation.
Marketers are the change agents, said Solis. "When you look in the mirror, are you willing to see somebody who has the courage to take responsibility, even without authority, to start the process of change? It is an external transformation, but at the same time, it is an internal transformation."
For marketers, it is important to embrace storytelling, bringing to life who the new customers are, how they feel, what they think and how they make decisions. "We have to champion their voice and their aspirations. It's important to be a centre for growth."
While profit is part of the growth, Solis said, so is the relationship. "Better experiences drive those new relationships, and that's what success looks like."
Needless to say, Covid-19 memories have opened new connections between brands and consumers. Brands need to understand this evolving customer and how it shapes their epochal memory.
"These times are not easy. Right now, we are all paying attention, in our own way, we are reevaluating everything. Because these times are so profound, they create moments where brands can create new connections with customers. The memories we are forming are epochal because they are definitive, it's going to last for a long time."
There are opportunities companies can use to re-enliven their brand. "It's time to upgrade, update, modernise and humanise our brand. To represent not just things that are trendy, cool and digital, but things that matter," he said.
According to Solis, the new pillars of memorable brand experiences or the novel economy include cultural relevance, innovation, purpose, trust, customer-unified, digital-first and wellness, among others. "This is a relationship business, and it's crucial to define what those relationships are supposed to look like. Create value that is mutually exchanged. Create a dashboard with meaningful metrics that measure what matters to customers and what matters to the business."
Presenting a playbook for the novel economy, Solis outlined the importance of unifying the organisation, technology and people around customers, upgrading the brand for modern times, values and aspirations, identifying missing areas for experience innovation, unleashing artificial intelligence for personalisation and optic-channel journeys and centralising real-time analytics for trends and insights among other things.
"Every time you touch a customer, it's not just a moment to transact, but also a moment to communicate empathy, to deliver something that people want, to deliver magic," said Solis. "That's what marketing is all about, bring that into everything that you execute, how you sell, how you serve. That touchpoint is an ignite moment, a moment to ignite a new relationship in a novel economy. And you are that champion. The future of marketing starts now, the future of marketing starts with you."
At his parting shot, Solis said that brands can now become the light customers are seeking.
—

Keynote Description: The New Role of Integrated Marketing CX in a Novel Economy
Even before the pandemic, customer experience was becoming an area of differentiation for progressive brands. Now in a world where digital has exposed weaknesses and opportunities in every company, experience is now the foundation for surviving and thriving in a post-pandemic economy. But what really changed in 2020 and 2021? How has digital and pandemic stress affected customer behaviours and expectations? What does "brand" mean now? Who owns CX moving forward? What is the new role of marketing now? Tune in to this can't-miss session to gain insight from global innovation evangelist Brian Solis.