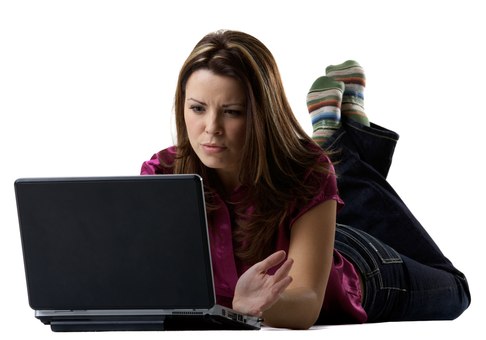 Source: Shutterstock
As consumers, I think you'll agree, prior to making any decision purchase, most of the time, our journey begins with a combination of online search and real world conversations with friends, family and peers. As the Web matures, a greater volume of our attention and focus continues to shift from other mediums to the Web for not only purchase considerations but also for content discovery.
It's how we learn.
It's how we stay connected.
Nielsen released a new study that documents the extent of this shift and also captures an evolution in our online behavior as we augment traditional search engines with the search boxes within social networks. As such, Google is no longer the only hub for content discovery. The statusphere is introducing new channels that now serve as our attention dashboards and it's the collection of streams of consciousness from those we choose to follow. Collecta, Twitter Search, Facebook News Feeds, FriendFeed, etc., serve as the gateways to insight and enlightenment.
The Nielsen study fielded in August 2009 consisted of 1,800 participants in which they looked at three main consumer segments using search (Searchers), portals (Portalists) or social media (Socializers) as their primary vehicle for content discovery.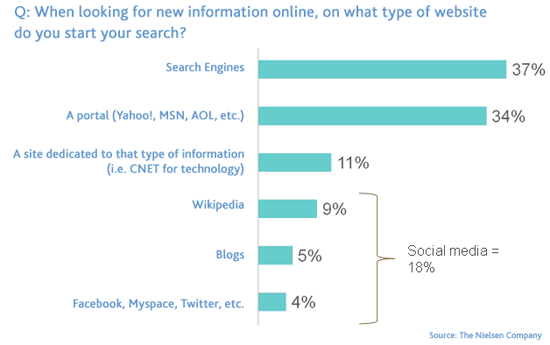 While traditional search engines accounted for 37%, the combination of search and online portals such as Yahoo, MSN, and AOL collectively represented 71% of the sites that serve as the sources for discovery. One of the more interesting results for the purposes of fueling this discussion is that social media sites such as Wikipedia, blogs, and social networks account for 18% of where searches begin, outperforming sites that are dedicated to publishing information specifically to help individuals find deeper analysis and details.
The study found that Socializers tend to trust what their friends have to say and use their online behavior (conversations, links, published experiences) as a form of information filtration. As Neilsen observers, "Social Media is becoming a core product research channel."
In December 2008, Forrester Research published a report that found company blogs were among the bottom of the list of trusted sources for information. In contrast, consumers stated that they trusted email from contacts, consumer ratings/reviews, search engines respectively.  The social graph ranked sixth.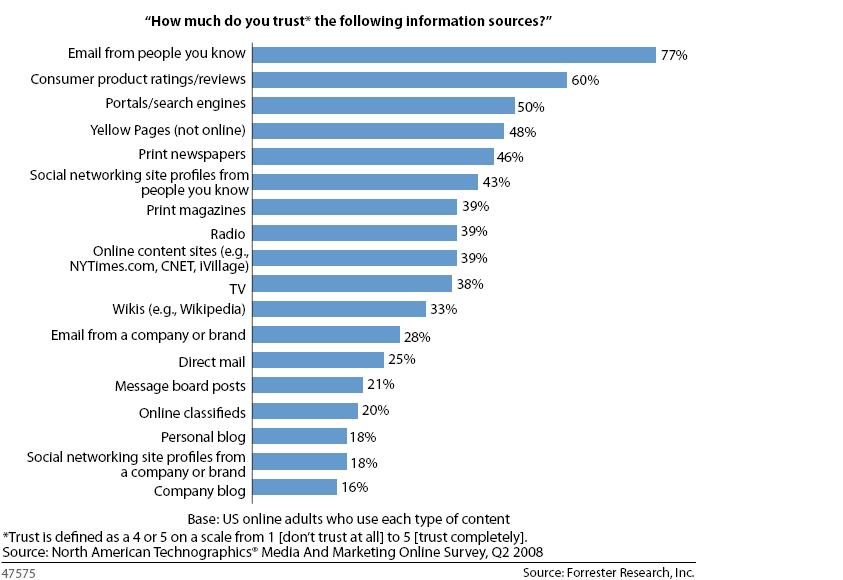 In 2009 however, Nielsen found that almost 15% of Socializers most trusted information they found on blogs (most likely not corporate) when researching purchases online and 20% most trusted the information they found on message boards. Facebook and/or Twitter on the other hand only represented 8% of trusted tools for seeking direction.
As search functionality and filtering improves in social media, you can expect Twitter, Facebook and other networks to grow more significant in their role for content discovery.
Connect with Brian Solis on:
Twitter, FriendFeed, LinkedIn, Tumblr, Plaxo, Plurk, Identi.ca, BackType, Posterous, or Facebook
—
Have you bought the book or the poster yet? (click below to purchase):
—
pr pr+2.0 pr2.0 public+relations marketing advertising interactive social+media socialmedia brian+solis social media media2.0 media+2.0 2.0 smo social+media+optimization marcom communication publicity advertising expert interactive spin brand branding guru social+architect