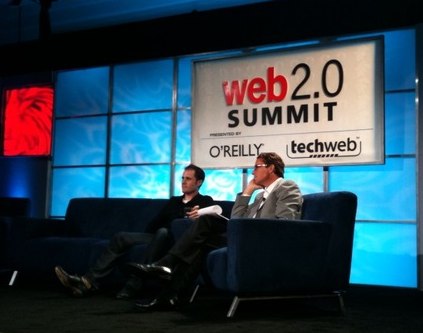 I recently attended the Web 2.0 Summit in San Francisco hosted by Tim O'Reilly,  John Battelle, and TechWeb.
One of the highlights of the conference was a discussion between Twitter co-founder Evan Williams and FM Media's John Battelle. It was a revealing and enlightening examination of the rise, state, and future of a social network that has been nothing short of transformative in its few short years of existence.
What appeared pervasive with every question, answer, and observation is that Twitter's success prevails in spite of its obvious hurdles, limitations, and absence of clear direction and vision. Twitter is a wondrous marvel and rare phenomenon whose surge to profound cultural prominence has completely transformed how people communicate, share and discover events and information.  Its success is one that cannot be retraced.
I wanted to share a few highlights as Williams spoke convincingly and honestly through statements that always seemed to fall within 140 characters. I know, because I actually live-tweeted the event and marveled, and relished, at the fact that I did not need to edit or truncate his words to fit within Twitter's self-proposed restraints.
@EV: Twitter is not a social network, it's an information network
I found this to be an interesting comment as it aligns with my observations of Twitter's role in transforming how we establish connections and interact with one another. Good friend Chris Brogan has described Twitter as a serendipity engine, which is also true in some cases. In many ways, our experience within and value derived from Twitter is tied directly to whom we follow and information crosses our paths while online. As such, we define and refine our connections based on those with whom our ideas, beliefs, and interests align. In the end, Twitter is a social network, an information network, and a serendipity engine that essentially forms what I call a contextual network or human network.
@EV: We're putting emphasis on mobile, international, and the platform. Traffic on Twitter.com has slowed temporarily
Battelle was clear and frank when he asked Evan Williams why traffic at Twitter.com was curtailing. The truth is that while many existing users are engaging on Twitter via third-party clients such as TweetDeck and Seesmic, many potential new users are unclear to the advantages, possibilities or basic next steps once visiting and/or registering for the service. While Twitter attempts to host your Social OS, it has more work to do in order to communicate its relevance and significance. However, as Williams alluded, Twitter would soon release new features that would increase the value of Twitter.com as a destination of interaction. The first appeared to be its new Lists and List Widget services. The second announcement in the lineup of new features also includes a new framework for retweets.
When asked specifically about lists, Ev enthusiastically replied, "Im excited about lists. It brings value to new and veteran users alike."
@EV: The problem with Twitter is upfront, not over time. We're focused on solving the problem of what to do with Twitter now for the first time
Twitter has had its fair share of growing pains, however, after a few years of technical advancement, Twitter as a platform can't seem to shake the legacy of the #failwhale. Problems persist, but growth continues.
Battelle asked Williams specifically about the Fail Whale and the company's ability to scale, to which he replied, "We're not concerned with scale, but not satisfied where we are in terms of the fail whale. We are inventing in and working on reliability."
@EV: We didn't see that Twitter would be big when we first started it. We didn't sell Twitter yet because we want to build it into something bigger
Of course there have been several rumors about the potential acquisition of Twitter. At one point rumors swirled around whether or not Google, Microsoft, and Apple were considering or entertaining acquisition strategies. And, with recent investments placing the valuation of the company at over $1 billion, the discussion concluded with Ev's very direct and candid response. Twitter is not for sale – not yet anyway.
@EV: The world is big enough for Facebook and Twitter
As the competition for your social graph escalates, Evan Williams believes that the so-called race is mostly fabricated by the media as a form of sensationalism and link bait. Numbers agree.
However, as Evan observed, "Most people I know use Facebook and Twitter." Perhaps it's just that simple.
@EV: We didn't know what Twitter would be, I sure as hell don't know what Google Wave is going to be. Trying to get my mind around it
In an honest answer to Battelle's question about the future and potential impact of Google Wave, Ev didn't speculate. He admitted that even he didn't have an idea as to the extent and direction of Twitter either.
Google Wave is the latest social media darling, mostly because its availability proves elusive and seemingly exclusive.  Those who have interacted with Wave in its current private beta stage have been greatly disappointed. However, the platform it introduces will force the real-time evolution of how we engage and interact on the social web. It's a portal into a new genre of collaboration and communication and Twitter will be part of the experience, not necessarily displaced by the forthcoming tidal wave.
@EV: Top 5 growth countries: US, UK, Japan, Brazil, and Indonesia
According to Evan Williams, Twitter's growth is in mobile and also in several countries worldwide. Twitter is a global play and it will follow Facebook's path to global ubiquity.
@EV: It's time to retire the suggested user list
In conclusion, Evan Williams acknowledged the need to kill the list that divided the community, the suggested user list. Twitter's new user-generated lists will serve as its replacement.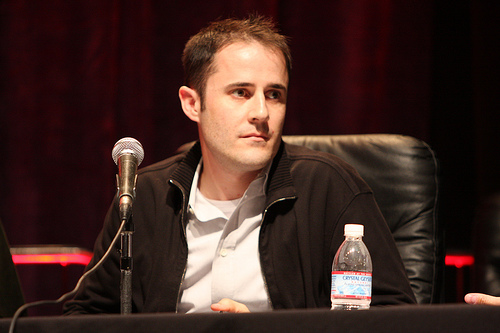 Connect with Brian Solis on:
Twitter, FriendFeed, LinkedIn, Tumblr, Plaxo, Posterous, or Facebook
—
Click the image below to buy: