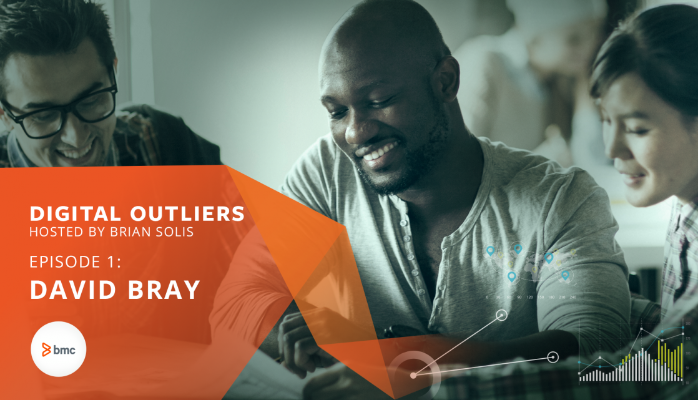 Over the last year, I partnered with BMC on a new podcast series called "Digital Outliers." We hand-picked 11 incredible guests working in critical areas of digital transformation and the future of work including IT, humanities and innovation. The result was humbling.
Each episode dives into the trends shaping how companies work and compete. Our guests also offer prescriptive guide points for executives and change agents driving digital efforts to modernize culture, productivity, innovation, and experiences.
My first guest in Episode 1 is David Bray, change agent and former Chief Information Officer, Federal Communications Commission. In fact, as I type this, he announced that he was taking on a first-of-its-kind role in government as the chief ventures officer at the National Geospatial-Intelligence Agency.
In our conversation, Bray shares his experience and efforts digitally transforming one of the U.S. government's most important oversight authorities. Bray also reveals the behind-the-scenes story how he used a combination of innovative motivational techniques, technical acumen, and an unconventional approach to the role of CIO to fully modernize the FCC's moribund technology programs. The result: an FCC with agile systems, intelligent processes, and motivated employees collectively empowered to continue to adapt to a rapidly changing world.
Please take a moment to listen to episode one. I hope you love it!
Brian Solis is principal analyst and futurist at Altimeter, the digital analyst group at Prophet, Brian is world renowned keynote speaker and 7x best-selling author. His latest book, X: Where Business Meets Design, explores the future of brand and customer engagement through experience design. Invite him to speak at your next event.
Connect with Brian!
Twitter: @briansolis
Facebook: TheBrianSolis
LinkedIn: BrianSolis
Instagram: BrianSolis
Youtube: BrianSolisTV
Snapchat: BrianSolis